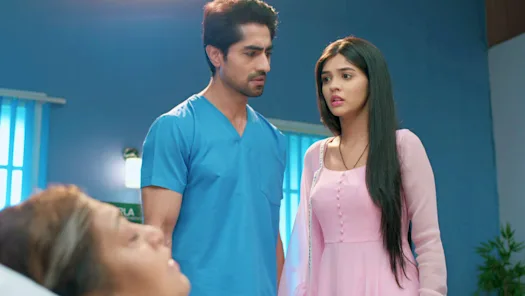 Yeh Rishta Kya kehlata Hai Upcoming Story, Spoilers, Latest Gossip , Future Story, Latest News and Upcoming Twist on TellyExpress.com
Drama to galore in Yeh Rishta Kya Kehlata Hai with Birla hospital CEO getting impressed with Akshara's music therapist. He will decide to make Akshara the new CEO of the hospital. Do Akshara will agree to take the responsibility?
In today's episode, Abhimanyu and Akshara fight continues. A boy cries while getting treated by Mahima. Mahima tries to cure the boy. Boy's mother asks Akshara to sing a song like earlier to calm her song. Mahima gets irked. Akshara sing a song. Mr. Bijoria gets impressed with Akshara. Arohi sees Akshara treating a child with her song. Boy's mother thanks Akshara. Akshara ask her not too.
Abhimanyu praises Akshara. Mr.Bijoria meets Abhimanyu. Abhimanyu introduces Akshara to Bijoria and says he is one of board of the members. Bijoria gets glad meeting Akshara. He talks about CEO position and says Harsh's place need to get filled soon. Bijoria asks Abhimanyu to think upon it as he is capable enough. Mahima talks with Anand. She says they need to do something before it gets late. Abhimanyu and Akshara walk away. Harsh calls out for Manjiri. He asks her to bring his medicine. Manjiri informs Harsh that his medicines are kept at bed side and water staffs will give. Harsh stand stunned.
Nurse informs Abhimanyu that Suhasini's blood pressure has shooted up. Akshara gets a panic attack. Abhimanyu console Akshara. Akshara hugs Abhimanyu . Later, Arohi brings into Kairav's notice about Abhira's fight.
In the upcoming episode, Kairav will confront Abhimanyu about hurting Akshara. Akshara will take a stand for herself. Will Abhimanyu and Akshara reconcile? Keep watching the show for more entertainment.
Stay tuned with us for more TV serial news and updates