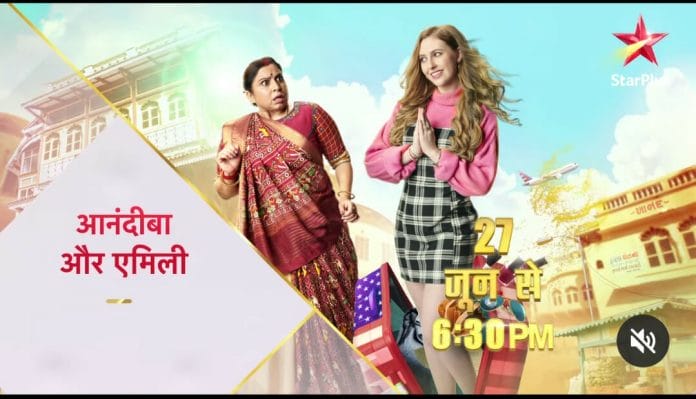 Aanandi Baa Aur Emily 12th August 2022 Written Update on TellyExpress.com
Episode starts with Aarav sharing his worry with Jaman and ask that what he will do if Emily wins the competition? He states that he don't want her to get accepted by his family, specially Anandibaa, orelse Emily will never move back to America and his childhood dream to visit America will never get fulfilled. He gets sad thinking about it, while Jaman motivates him and assures that Emily will never be able to win the competition. Aarav notify Jaman that the latter can do anything and ask his friend not to underestimate Emily. Whereas, Jaman ask him to forget about the matter.
Here, Jaman apprises Aarav about a good news. He tells that Aarav's visa is about to come and ask the latter to get think about it instead of Emily's competition. Meanwhile, Aarav decides to fail Emily's effort, so that she won't be able to win the competition and then his family won't accept her.
Aarav goes back to his house and gets shocked seeing the smoke. Sanghanis becomes worried, while Emily and Pinky gets stuck inside the kitchen. Anandibaa questions Emily for starting the stove inside the house. The latter replies that she was just practicing for the competition, so that she won't loose it.
Elsewhere, Aarav gets worried for Emily and decides to rescue her, as he doesn't want to loose his chance to visit America. Anandibaa tries to stop him but he forcefully goes inside the kitchen and tries to stop the smoke. He also saves Pinky and brings her out and then again goes back inside to save Emily. Unfortunately, he gets unconscious due to smoke, while Emily rescues him and comes out carrying him.
Sanghanis gets stunned seeing Emily saving Aarav's life and wakes him up. He shows his gratitude towards Emily and declares that she can do anything. Whereas, Anandibaa gets worried thinking about her blessing which she has given to Emily. She recalls how her blessings always work and gets tensed thinking that what if Emily wins the competition?
Ahead, Anandibaa ask Gunjan to keep an eye on Emily while the latter assures that Emily can never cook sweet dish as Anandibaa. The latter smiles and gets happy with Gunjan's reply and prohibits the latter from helping Emily in learning how to make sweet dish. Meanwhile, Pinky ploys against Emily and swaps the labels of kitchen ingredients. Whereas, Gulab gets beaten up by some ladies and Aagya helps him to return back to their home. Kanchan gets shocked seeing his state, while he notify her about the incident.
Gunjan confronts Pinky while the latter reveals about her plan and says that by swapping the labels of the ingredients, Emily will gets mislead and will ruin her sweet dish, by adding salt instead of sugar. Gunjan gets frustrated with Pinky and declares that Emily isn't stupid that she won't be able to guess the difference between ingredients and notify the latter about a better plan.
Further, Emily insists Anandibaa to teach her how to operate stove but the latter denies. Gunjan takes an initiative, while Anandibaa prohibits her from teaching any sweet dish to latter, while Gunjan agrees to it. She then shows her fake support towards Emily and gives her a wrong recipe stating that it is same recipe which Anandibaa use to make sweet dish. Emily gets excited and shows her gratitude towards Gunjan but then returns it saying that it is cheating, but Gunjan somehow convinces her.
Precap:- Emily notify Aarav about the recipe which she got from Gunjan. She tells that it's the same which Anandibaa use to make sweet dish. Aarav gets tensed and states that it will be a cheating, but Emily replies that it is not. Aarav shares his worry with Jaman and sends him inside the house to steal the recipe, so that Emily won't be able to win the competition. The latter takes the recipe and tries to sneak out the house, while Emily gets worried. Gunjan becomes shocked learning about the missing recipe and worries about getting caught by Anandibaa. Meanwhile, at that time Anandibaa gets the recipe and confronts Gunjan.
Episode starts with Emily assuring Anandibaa that she will win the competition and tells that this year also their sweet dish will get inside the temple. Anandibaa looks at Emily and gets furious, she scolds her for writing her name instead of Anandibaa and declares that if Emily fails to win the competition then she will have to leave the house. Everyone gets shocked, except for Gunjan as the latter enjoys the drama created by herself. Meanwhile, Emily agrees to Anandibaa's conditions and proclaims that if she won then the latter have to allow her inside the kitchen, to which Anandibaa agrees.
Here, Emily proclaim to win the competition, while Anandibaa confronts her asking that if she feels, she cooks better then her? To which Emily denies and tells that she will try her best to get Anandibaa's forgiveness. Whereas, Gunjan smirks thinking about her next move in order to get Emily out of their house.
Gunjan and Pinky gets inside their room and the latter warns her sister to be aware of Emily. She declares that they have to get rid of Emily as soon as possible. She notify about their intention, while at that time Emily comes there. Pinky gets scared seeing her and falls on her legs pleading for forgiveness.
Click to read