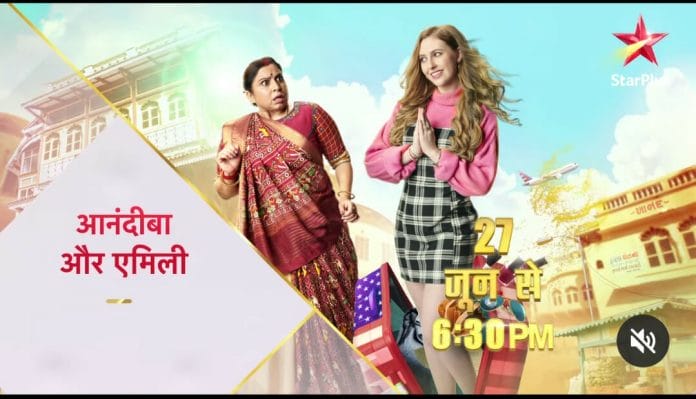 Aanandi Baa Aur Emily 14th September 2022 Written Update on TellyExpress.com
Episode starts with Gunjan telling her plan to Pinky. She ask the latter to scare Emily in order to make Anandibaa believe that Moti Baa's spirit is angry with her. Meanwhile, Sanghanis wait for the crow to come and eat the food, but due to Gunjan's ploy all the crows flies away from there. Pinky dresses up like a scarecrow as instructed by her sister, in order to fulfill their plan. Aagya gets tired waiting for the crow, while Gunjan instigates Anandibaa stating that maybe Moti Baa is angry with her because of some reason. Anandibaa gets into thinking and tries to find the possible mistake done by her which can upset Moti Baa's spirit.
Here, Gunjan indirectly tells Anandibaa about her decision of marrying Aarav and Emily. Aagya says that they all married in their caste, except for Aarav. The latter gets frustrated with his family's thinking while Anandibaa recalls the words said by Moti Baa and gets worried.
Gunjan goes inside her room while Pinky comes there and shares her problem. Gunjan scolds her and forces to become the ghost. The latter explains the plan to Pinky and ask her not to do any mistake, while the latter assures about it. Meanwhile, Pinky questions that how she will transform into ghost? To which Gunjan starts scaring her.
Elsewhere, Gunjan ask Pinky to close her eyes and then makes a scary face on the mirror. Pinky gets scared seeing it and screams while Gunjan stops her and says that she will have to act to be a ghost. Gunjan ask Pinky to pack her luggage and says that she will make an excuse to the family members about her that Pinky had left for her house as her parents are trying to find a groom for her.
Anandibaa gets inside Gunjan's room and sees both the sisters. She questions the latter about the matter, to which she replies that Pinky is going back to their parents house as they are planning for her marriage. Anandibaa nods hearing about it, while she also screams after seeing the scary face on the mirror.
Ahead, Emily finds about Pinky going to ger parents house and gets scared to spend the night alone. She insists the latter to stay, but she denies and goes away after making Emily scared. Later, at the night Pinky returns back to the house dressing up as a ghost. Gunjan gets afraid seeing her and then scolds her for not taking it seriously.
Gunjan sends Pinky to Emily's room in order to scare her. The latter tries to sleep alone but gets scared seeing all thr paranormal activities. She runs away towards hall and shouts for help, while everyone gathers there. She notify them about her fear but they ignores it. Gunjan instigates Anandibaa against Emily and points at her for being the reason for Moti Baa's anger.
Further, Aarav takes Emily along with him while she denies to sleep alone. He gets an idea and takes her to the terrace. She feels sleepy while he engages her in his words to make her forget about the ghosts. They gets romantic with one another and then they sleeps on the mat, keeping a pillow in between them.
Precap:- Emily insists Anandibaa to give her a chance to win Moti Baa's heart. She promises to convince her, while the latter gets speechless. Emily will brings soundtrack and dresses herself as a dancer. She starts performing in front of Moti Baa's portrait, while Aarav becomes shocked. Whereas, Anandibaa and Gunjan keeps staring the latter being stunned.
Episode starts with Emily watching Aarav's video and gets emotional. He apologizes to her for his mistake and clarifies his intentions, while she hugs him immediately and forgives all his mistakes. They both confesses their love for one another, while Anandibaa and Gunjan gets devastated seeing their reunion. Pinky also gets upset and makes faces, while Gunjan shares her frustration with her sister. They recalls how they ployed against Emily and even manipulated Anandibaa in order to throw Emily out of the house. She proclaims that all her plan to break Emily and Aarav's relationship gets flopped.
Here, Gunjan and Pinky keeps confessing their crimes while sitting together. At that time Gunjan's son recorded their video and goes to show it to Anandibaa. Gunjan tries to stop him stating that they were just discussing about some important work. She ask her son to keep it a secret, but he denies and rushes downstairs. Gunjan and Pinky follows him hurriedly in order to stop any mishap.
Teni gives the phone to Anandibaa and says about the important confession of Gunjan, the latter smiles thinking about the hardwork Gunjan puts in her chores daily and decides to appreciate the latter after seeing the video. She takes the phone from Teni while Gunjan and Pinky tries to stop him but gets unsuccessful.
Click to read