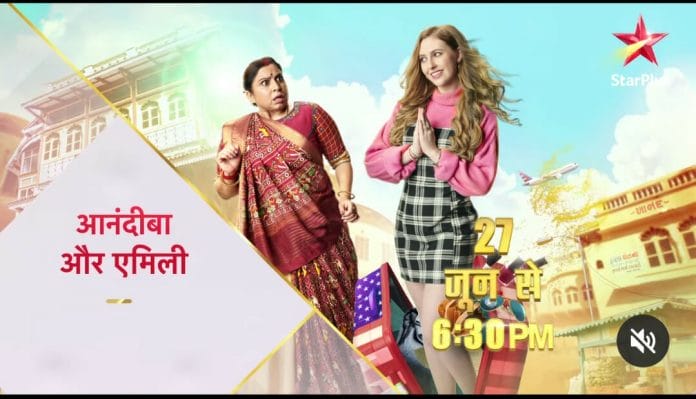 Aanandi Baa Aur Emily 16th August 2022 Written Update on TellyExpress.com
Episode starts with Pinky and Gunjan plotting against Emily. The latter makes a plan to spoil Emily's halwa, so that she won't be able to participate in the sweet dish competition. She tells her plan to Pinky and ask her to put salt in the halwa. She ask if Pinky will be able to do it, while the latter assures and goes to complete their plan. Whereas, Gunjan smirks thinking about her cunning move and states that no one can stop her from throwing Emily out of the house, so that Pinky can marry Aarav and settle in the same house. Whereas, Emily gets tensed thinking about the competition and Aarav helps her to make the halwa.
Here, Anandibaa calls Gunjan and shares her worry. She questions the latter about the update of Emily. She ask if the latter will win the competition? To which Gunjan proclaims that no one can cook halwa better then Anandibaa. She states that Emily won't be able to compete with her, while Anandibaa gets elated and praises Gunjan for her hard work.
Anandibaa states that she is seeing Emily working hard for the competition and states that she don't want to hurt her feelings, but she isn't sure if she can participate in halwa competition. Anandibaa shares her dilemma with Gunjan and then gets an idea to call their neighbors for the judgement that if Emily is capable of participating in the competition or not.
Elsewhere, Gunjan confronts Pinky and ask if she has completed the task? To which the latter assures and narrates how Emily and Aarav was decorating their halwa, but she spoiled it with salt. Gunjan feels proud of her sister and declare that soon she will become the daughter-in-law of Sanghani's house. Anandibaa gathers all their neighbors and notify them about the matter.
Anandibaa tells everyone that she wants an opinion about Emily's halwa. She questions Emily that if she is okay with it? To which the latter agrees and states that she is ready to face the judgement. She serves the halwa to everyone and remembers how she has spended time with Aarav while preparing it. Everyone taste the halwa except for Anandibaa and gives a positive response.
Ahead, Gunjan gets shocked and questions Pinky. The latter tells that she haven't spoiled the main halwa of Emily, Gunjan gets furious at Pinky and fumes in anger seeing Emily's praises. Whereas, everyone approves the halwa for the competition. Anandibaa gets stunned and then finally tries it and finds it fine. She gives permission to Emily to participate.
Emily gets elated while everyone ask her about the secret ingredient of the halwa, while she replies that she has used some American dishes. She becomes happy and submits her halwa for the competition. Meanwhile, Gunjan determines to throw Emily out of the house and swaps Emily's halwa with a bad one.
Further, Emily looses the competition and then comes back to the house with Aarav. Anandibaa confronts her while she tells her the truth. Anandibaa smirks and reminds her about their challenge. Gunjan also tells that Emily agreed that if she will loose the competition then she will leave the house. Meanwhile, Aarav goes away from there making some excuses. Emily becomes shattered and gets teary eyes.
Precap:- Anandibaa reminds Emily about the rules of their challenge and ask her to leave the house. Whereas, Gunjan smirks and declares that only God can help Emily to enter their house again. The latter gets shattered and runs away from there. She meets the priest while he ask her to do a difficult task in order to impress God. The latter stands with one leg in front of the God's idol and prays to him with full concentration. At that time the God himself comes in front of her, while she gets elated.
Episode starts with Gunjan finding about Emily loosing the recipe given by her. She gets scared thinking that if Anandibaa gets it, then she won't spare her. She prays to God in order to save her, while at that time Anandibaa comes inside the kitchen and confronts Gunjan. The latter gets scared seeing a paper in Anandibaa's hand and imagines it to be the sweet dish recipe. She falls on Anandibaa's leg immediately and apologises for her mistake. The latter gets shocked and then scolds her for not thinking about her emotions. Gunjan insists Anandibaa not to punish her and ask for a chance, to which the latter replies that she has broken her heart.
Here, Gunjan was about to talk regarding the recipe, when Anandibaa starts telling about the things that she has ordered for everyone, but Gunjan scrapped her things from the list. Gunjan gets confused and then sees the paper. She becomes relaxed upon finding that Anandibaa doesn't had the recipe. Anandibaa shows her concern towards Gunjan and states that she never think about her needs.
Anandibaa insists Gunjan to get the things for herself, while the latter starts her acting and says that she only wants Anandibaa and her blessings. She proclaims that she is lucky to get a mother like Anandibaa and states that she doesn't need anything else in her life, while the latter gets fooled by her words.
Click to read