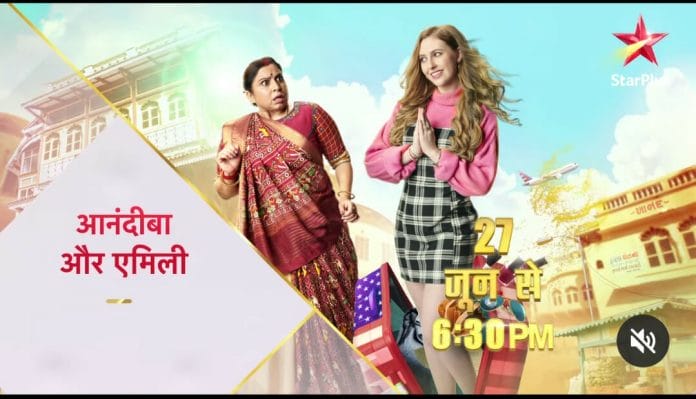 Aanandi Baa Aur Emily 19th September 2022 Written Update on TellyExpress.com
Episode starts with Emily telling Anandibaa about the truth behind reparation of the photo frame. She notify that Jaman repaired it, as Aarav asked him to do it. She denies about Moti Baa's spirit accepting her and repairing her photo frame. She recalls how Aarav consoled her when she was sad thinking that why Anandibaa doesn't accepting her. Meanwhile, Aarav assures her that everything will be fine and his mother will soon accept her as the daughter-in-law of the family. He comforts Emily while she gets elated seeing his care towards herself.
Here, Aarav glares at Jaman for exposing their ploy because of his mistake. Anandibaa glares at both of them, while the latter comes forward and confesses the truth. He accept that it was him who instructed Jaman to repair the photo frame, because he couldn't able to see Emily being hurt. He apologizes to Anandibaa while she keeps glaring at him.
Anandibaa talks about the incident when Moti Baa's spirit has eaten Emily's handmade sweetdish. Emily replies to Anandibaa that it wasn't Moti Baa's spirit but Gulab, who have eaten it. Everyone gets shocked, while Emily notify that how Gulab loves sweetdish and has consumed it all from the store room. Anandibaa looks at him and glares with her eyes.
Elsewhere, Gulab comes forward and confesses his truth. He tells that he couldn't able to stop himself from eating the sweetdish. Anandibaa gets furious at him and scolds the latter. Meanwhile, Gunjan smirks and says that Moti Baa haven't accepted Emily as Aarav's wife. Whereas, the latter tells that after knowing about Moti Baa's spirit, now she isn't scared of any ghost.
Payal comes there and ask Anandibaa to give the chunri to Emily, as the latter told all the truth, even after knowing the consequences. Anandibaa doesn't get pleased with the idea but still forwards the chunri to Emily. The latter remembers the words of Lord Krishna and denies to take it. She replies that she will take the chunri only when Anandibaa will accept her whole heartedly.
Ahead, everyone gets shocked by Emily's decision while Lord Krishna meets her and appreciates her decision. She gives the credit to him. Whereas, Payal makes dhokla and Emily puts candle on it. Anandibaa mocks them after seeing the dhokla cake, while Priyanka comes there to visit them. She takes blessings from Anandibaa and then meets Emily.
Anandibaa feels proud of fixing Priyanka and Nikesh marriage, while the latter discuss about the truth behind her marriage with Emily. She insists the latter to help her in giving divorce to Nikesh. She notify that her mother-in-law is about to come to Anandibaa to discuss about the problema in their relationship and ask Emily to do as per their plan.
Later, Priyanka's mother in law accuses the latter for for leaving Nilesh because of his baldness. Anandibaa gets shocked, while Nilesh's mother proclaims to blame Anandibaa fir the separation of Priyanka and her son. Anandibaa declares Priyanka to be wrong, but Emily takes a stand for her and goes against Anandibaa. The latter gets furious and lashes out at Emily, while Aarav also gets disappointed. Later, Emily meets Priyanka and laughs thinking that Anandibaa was faking her anger.
Emily recalls the deal with Priyanka, when the latter told that Nilesh used to harm her physically and so she wants to leave him, but doesn't want to reveal about his abuse to anyone. She promises to send a letter to Anandibaa and convinces Emily to help her. But, then she reveals that she haven't sended any letter to Anandibaa and Emily gets shocked realising that the anger of Anandibaa was real. Priyanka then takes a promise from Emily, not to tell the truth to Anandibaa till she gets divorced from Nilesh, while Emily gets into turmoil.
Precap:- Pinky and Gunjan helps to dry Anandibaa's hair, while the latter ask them to look into Aarav's matter. Gunjan replaces Aarav's shampoo, while he takes a bath and gets shocked seeing himself bald. Meanwhile, Anandibaa proclaims that she wants to see if Emily will do the things she said or not? She states that the fight is in between Emily and her.
Click to read