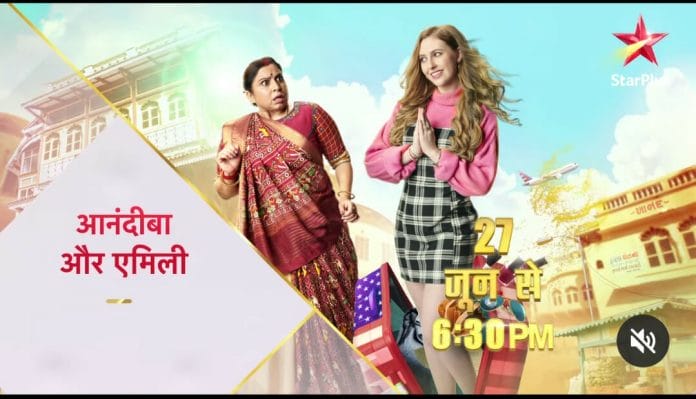 Aanandi Baa Aur Emily 23rd September 2022 Written Update on TellyExpress.com
Episode starts with Anandibaa telling Aarav about her vow and ask him to donate his hair to the temple as a gratitude towards God for helping them in winning the case. Everyone gets shocked and the latter denies to accept Anandibaa's request. He says that he can't afford to do it and proclaims that if he gets bald, then Emily will have to leave him. He tries to make Anandibaa and Gunjan understand about his situation, to which the latter tries to convince him to donate his hair and accept Anandibaa's request. She says that his mother cares about him and will always think good for him.
Here, Emily gets worried seeing Aarav's state. Whereas, Gulab and Aagya also takes a stand for Aarav. The latter stays firm on his decision and proclaims that he won't donate his hair, to which Anandibaa gets adamant and states that she will make him shave his hair anyhow. She gets firm on her decision, while Aarav gets tensed.
Gunjan and Pinky smirks enjoying the drama and the latter intentionally tries to bump into Aarav in order to make him loose his wig, but she gets unsuccessful. Gulab ask her to stay alert and gives her a warning. Whereas, Emily goes inside her room and waits for the God to appear in front of her.
Elsewhere, Lord Krishna comes in front of Emily and ask about her worry, to which she notify him about the divorce papers and her promise to Priyanka. He smiles and proclaims that he knows about it. He calms her while at that time Payal ask for help and Emily rushes towards her. She helps the latter to wash the clothes.
Lord Krishna looks at Emily and bids adieu to her, while she ask him to stop. She reminds him about her problem and ask that how she will solve it? To which he replies that she herself helps others and so she will also get help from someone. He goes away while Emily gets confused. Meanwhile, Anandibaa performs the daughter-in-law puja of Gunjan.
Ahead, Payal ask Anandibaa to do the same puja for Emilyas she is the second daughter-in-law, to which the latter denies and says that Emily is with them only for a few moments. She shows them the contract of Emily and proclaims that the latter agreed to divorce Aarav if he gets bald. She recalls how Gunjan instigated her against Emily and convinces for Aarav and Pinky's marriage.
Anandibaa reveals about marrying Aarav with Pinky after Emily's divorce while everyone gets shocked. She then gets flashes of seeing Aarav without hair and exposes him in front of everyone. They all gets stunned while Anandibaa ask Emily to fulfill her promise. The latter gets into turmoil and remembers Lord Krishna's advice to always help the needy. She was about to sign the divorce papers, when Priyanka comes there.
Further, Payal reveals about calling Priyanka to tell the truth to everyone. The latter hesitates and says that she don't have courage to expose her husband, while Payal and Emily notify everyone about the wrong deeds of Nilesh. Priyanka gets the confidence and reveals about the way her husband used to torture her and also tells about her promise from Emily. Anandibaa gets furious at Nilesh and makes the police arrest him.
Precap:- Gunjan and Pinky notices Emily talking to someone invisible. The latter calls Anandibaa and ask her to come out of the house. She will make her see Emily and proclaims that she is talking to herself. Anandibaa tells that she have seen Emily doing it quite often, to which Gunjan proclaims that Emily is possessed by ghost. Anandibaa gets shocked and stares at Emily.
Episode starts with Anandibaa trying to convince Priyanka to re-think about her decision to divorce Nilesh, to which she denies the request and tells Anandibaa that even her daughter-in-law, Emily will leave Aarav if he gets bald. Anandibaa glares at Emily and confronts her. She questions the latter that if she will leave Aarav if he gets bald? To which she gets into turmoil and keeps staring at the latter. Priyanka drags Emily to aside and notify her about the situation. She request the latter to support her, till she gets rid of Nilesh. She also states that Aarav isn't going to be bald and ask Emily to agree to her statement in front of Anandibaa.
Here, Payal hears Priyanka's advice and goes towards her. She stops the latter from troubling Emily. She questions that why Priyanka is making Emily fall into trouble, just to save herself. Priyanka defends herself and says that Aarav won't be able to get bald and assures that Emily doesn't have to leave him. She manipulates them to help her and ask to support her decision.
Anandibaa calls Emily towards herself, while Gunjan and Pinky enjoys the drama. Anandibaa sends Emily inside the temple to get pious water, while the latter joins hands in front of God and starts praying to him. Meanwhile, Lord Krishna appears in front of her and she questions him that if she is going to do something wrong? To which he smiles and replies her.
Click to read