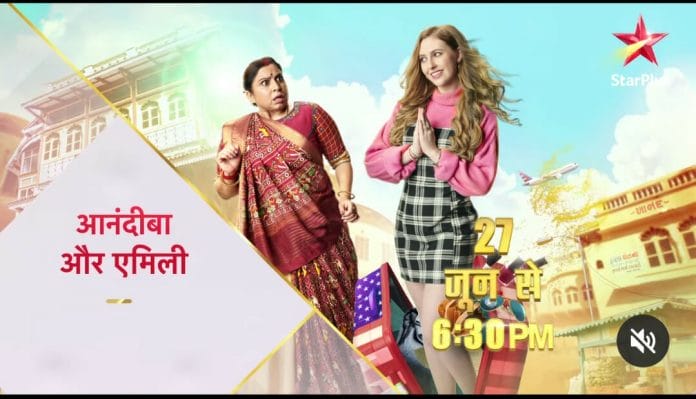 Aanandi Baa Aur Emily 26th October 2022 Written Update on TellyExpress.com
Episode starts with Gunjan spiking Aarav and Jaman's food. She sends the food along with Pinky, while they eats it without thinking about the consequences and falls unconscious on the bed. At that time Pinky and Gunjan enters inside Aarav's room and gets elated upon seeing them unconscious. Jaman keeps mumbling about exposing Gunjan and Pinky but the latter couldn't able to understand his words. Meanwhile, Pinky gets the bag and Gunjan starts taking out the money. They smirks seeing their plan working and distributes some money in between themselves.
Here, Pinky gets greedy and ask Gunjan to give her some more money but the latter denies. Pinky requests her sister while she somehow agrees and gives one more bundle of money to Pinky. She then takes one more for herself and states that Aarav won't be able to notice it. She then keeps the bag there itself and goes out along with Pinky.
Aarav wakes up with a headache later at night and gets shocked after realising the situation. Meanwhile, he looks at Jaman and wakes him up. He immediately takes the bag of money and checks it. He gets shocked seeing that the money is missing and doubts Gunjan and Pinky for it. He immediately makes a call to Emily.
Elsewhere, Riddhi keeps seeing her phone while Payal keeps an eye on her. The latter ask Riddhi to tell about tha hospital name so that she can make the cheque on its name, which was given by Mridula. She involves Emily in the matter and ask her to insist Riddhi to tell about the hospital's name. Meanwhile, the latter finally reveals about it's name.
Payal glares at Riddhi and proclaims to keep the latter away from Emily and Aarav. She then notices the latter seeing the globe gifted by Aarav to Emily and starts talking about it. She confronts Riddhi and says that it represents the love of Aarav towards Emily and proclaims that no one can come in between them.
Ahead, Aarav calls Emily and tells her about the matter. He shows his worry and says that they got fooled by Gunjan. Emily calms him down and reminds about their other option. He recalls that Emily has putted itching powder on the cash inside the bag, so that it will be easy to catch the culprit for them. He appreciates Emily's idea and goes to expose Gunjan.
Aarav tells about the missing money in front of his family while Anandibaa denies to believe it and ask him to check inside his room. He tells that it's missing to which she also gets suspicious and decides to find the culprit. He proclaims that the money had itching powder on it and the culprit will itch their hands. Gunjan and Pinky tries hard to control themselves while Aarav and Jaman keeps their eyes on them.
Further, Aarav shares his worry with Emily that Gunjan and Pinky is failing their trick, to which the latter tells him about their 3rd plan. Aarav puts a chemical bowl and ask all the family members to dip their hands inside it and proclaims that if it turns red then the powder must be there in that person's hand. Jaman starts doing it while Anandibaa follows him. Gunjan and Pinky gets worried and ask one another to go first, while Anandibaa gets confused seeing their behavior.
Precap:- Aarav gets inside the house along with Riddhi. He tells Anandibaa that she was tensed after the allegations of stealing upon her and so he consoled as well as married her. He proclaims that he was with Riddhi the whole time, while Anandibaa drags the latter and makes her stand in front of the house door. Whereas, Riddhi looks at her being shocked.
Click to read