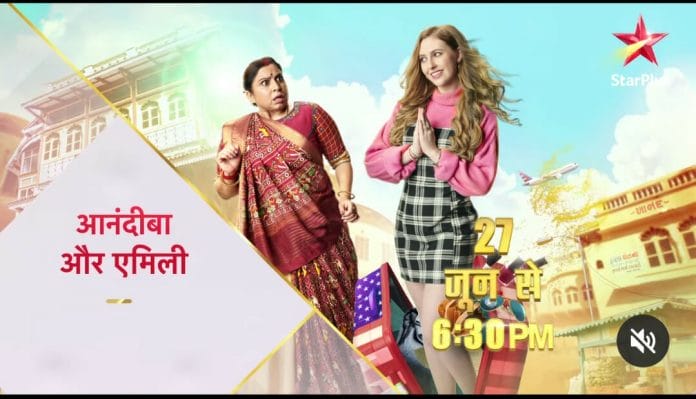 Aanandi Baa Aur Emily 28th October 2022 Written Update on TellyExpress.com
Episode starts with Payal giving the contract papers of marriage to Riddhi, while she gets shocked after reading it. She notify about a clause to Aarav and Emily that she will have to give 1 crore rupees as compensation if she fails to fulfill the contract. Both Aarav and Emily also gets stunned finding about the clause and ask Payal about it. The latter replies that it is made by Mridula and tries to convince them for it, stating that it's about Emily and Aarav's life. She insists Riddhi to sign it but the latter denies and goes away from there.
Here, Aarav and Emily discuss about the contract while the latter says that Riddhi must be thinking that they don't trust her. Meanwhile, Jaman finds about the matter from Payal and decides to spy on Riddhi. They goes to the hospital and finds out there isn't any patient named as Riddhi's father. Whereas, Emily and Aarav both gets into dilemma, while Gunjan takes Pinky out of Sanghanis house. The latter cries and recalls her dream to marry Aarav. She proclaims that she wanted to get inside the Sanghanis house as their daughter-in-law, but have to leave it being a thief.
Pinky cries over her fate and says that Gunjan couldn't able to help her for fulfill her dream. Gunjan feels bad for her sister and ask the latter not to get worry. She assures to help her to get back inside the house and assures that she will get to marry Aarav. But, Pinky denies to believe Gunjan and moves away from there.
Elsewhere, Gunjan insists Pinky to stay in her friend's house but the latter denies and goes back to her house. Whereas, Gunjan sees Emily and Aarav enjoying icecream together and goes to confront them. Meanwhile, Aarav sees Emily being worried and ask her not to take any tension. He aak her to enjoy the ice cream.
Gunjan clicks Aarav and Emily's picture and confronts them. She mocks them about their ploy against Pinky and blames them for the leaving of Pinky from Sanghanis house. She states that she wont let them be in peace and will tells Anandibaa about their meet. She gives a direct warning to Aarav while he immediately snatches her phone.
Ahead, Aarav smirks after taking Gunjan's phone while she starts laughing. She proclaims that she has already sended the picture in Pinky's phone and will show it to Anandibaa. Aarav gets worried about their plan while Gunjan smirks and declares that she will surely take her revenge from Aarav and Emily.
Anandibaa reads her horoscope and gets worried after seeing the bad news. She shares her worry with Aagya and talks about getting Aarav married as soon as possible. Aagya tries to calm her and ask to give sometime to Aarav but Anandibaa denies and says that he will get healed after marriage. She ask for Gunjan while the latter comes there and shows the picture to Anandibaa making her shocked.
Further, Aarav and Emily discuss about the problem and then finds a solution. Aarav gets confronted by Anandibaa while he replies that the picture is old and shows his shirt stating that he isn't wearing that. Gunjan tries to prove herself right when Aarav brings Riddhi inside in bridal attire. He notifies that he was with Riddhi and married her after learning about her truth. Anandibaa sends Riddhi outside the house and then brings her inside happily with proper tradition, while Gunjan gets shocked seeing it.
Precap:- Gunjan confronts Riddhi and says that she knows about Aarav and Riddhi's contract marriage. She instigates the latter against Aarav and proclaims that they will betray her. She ask Riddhi to take advantage of the situation and teach Aarav and Emily a lesson. She forwards her hand and ask Riddhi to join hands with her against Aarav and Emily, while the latter keeps staring at Gunjan.
Click to read