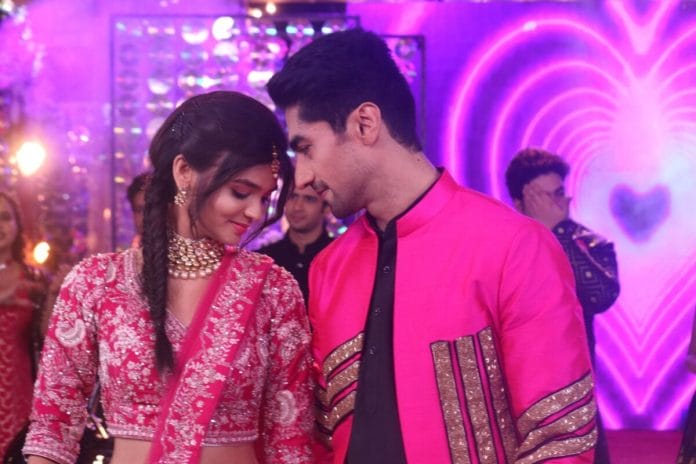 In the upcoming episode, Akshara will bump into Abhimanyu. She will also collect proof to prove Kairav innocent. Before the big drama loads in Yeh Rishta Kya Kehlata Hai see the highlight of the week:
This week was high on drama with Kunal threatening Akshara not to meet Abhimanyu. He captures Kairav to stop Akshara. Akshara replies to Kunal that his end is near. She says Kunal is crossing limit of selfishness. Birlas take back injured Abhimanyu. Abhimanyu vows to find Maya's secret. He hatches a plan to bring Maya's truth in light. Meanwhile, Akshara sneaks into Birla house to meet Abhimanyu. Abhimanyu gets determined to reach Akshara. Akshara fail to meet Abhimanyu.
Further, Abhimanyu calls Maya at Ganpati Visarjan. He demands her to sing Lord Ganesh aarti. Maya convinces Akshara to come along. Akshara helps Maya. Abhimanyu and Akshara pray to God to bring them in front of each other. Their prayers get answered and AbhiRa had a dramatic face-off. Abhimanyu breaks his ties with Akshara. Akshara asks Abhimanyu to give her 24 hours to prove herself innocent. Manjiri convinces Abhimanyu to meet Akshara. Towards the end of the week;
Manjiri encourages Abhimanyu to give Akshara one last chance to explain herself so that he doesn't have any regrets. Akshara wait for Abhimanyu's reply. Manjiri convinces Abhimanyu to meet Akshara. Abhimanyu gets convinced and decide to meet Akshara for one last time. Akshara gets happy learning that Abhimanyu finally gave her 24 hours. Akshara gets a call from her detective and learn that he has proofs that will prove Kairav innocent.
Maya talks with Kunal and says post event her life will get over as Akshara will leave. Kunal asks Maya to calm. Maya says her career will over post Akshara will leave. Kunal says to Maya to calm as he will not let Akshara go post event. He assures Maya that she will be in a limelight post event too. Maya asks Kunal if he is serious. Kunal says they need to be selfish to survive in this world. Akshara over hears Kunal's plan. She says she will change her life within 24 hours. Akshara hatches a plan to reach Kairav first to execute her plan. She says within 24 hours she will fix everything. Kunal asks Akshara to prepare for the finale.
Akshara decide to be in Kunal's good book. She demands politely to meet Kairav. Kunal agrees upon Akshara's demand. Akshara think once Kunal will take her to Kairav it will be easy for her to free him from Kunal's clutches. Kunal bring Kairav to Akshara. Akshara gets shocked. Kunal asks Akshara and Kairav to finish the talk. He stands in between them.
Akshara talks with Kairav and tries to get the information about the hotel he is staying. She tricks Kunal and managed to learn about Kairav's whereabouts. Abhimanyu pray to God to bring the truth so that he can learn why Akshara left him one year ago. Akshara decide to execute her plan as soon as possible. Mahima sit stressed. Manjiri asks Mahima not to stress and celebrate Anisha's birthday with a smile. Mahima says she can't forget what has happened with Anisha.
Maya give auspicious thread to Akshara as a good luck for finale. Akshara decide to change her world in next 24 hours. She hatches a plan to get Kairav out from Kunal's clutch. Akshara manage to reach Kairav.
Birlas remember Anisha on her birthday. Mahima asks Abhimanyu why he didn't asked Akshara about Kairav. Manjii asks Mahima how she learns about Akshara. Mahima disclose about hearing Abhimanyu and Manjiri's talk. She gets angry on Abhimanyu for still believing Akshara. Abhimanyu tells about 24 hours deal with Akshara and decide to reach the truth.
In the future episode, Akshara will be teased by hooligans. Abhimanyu will come for Akshara's rescue.
Follow us for TV serial latest updates