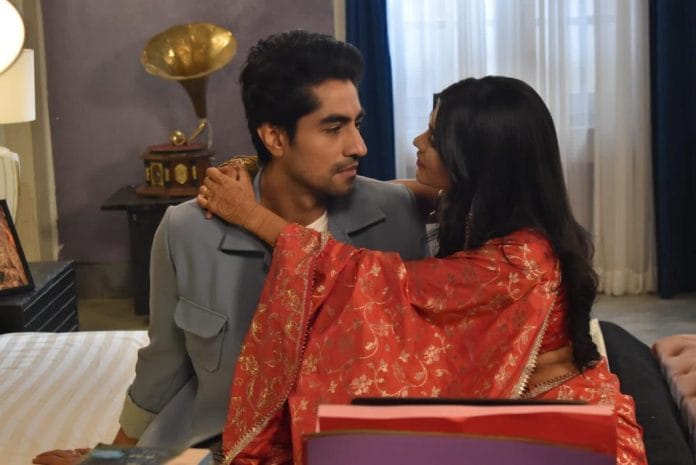 Yeh Rishta Kya Kehlata Hai audience will see adoption track. Neel's adoption track will bring major drama in the show. How the equation between Abhimanyu and Akshara will change wait for the episodes to unfold the twist. Before that we bring a a recap of this week;
This week started with Abhimanyu getting stunned seeing Akshara's anniversary surprise for Manjiri and Harsh. Harsh gets irked. Goenka's worry for Akshara and decide to take her back with them for pagphera ritual. Manjiri asks Akshara to take Abhimanyu's permission before going. Akshara gets restless thinking about Abhimanyu's anger. Abhimanyu asks Akshara to leave. Akshara and Abhimanyu longs for each other. Later, Manjiri tells to Abhimanyu that the ritual will not get complete until he will visit Akshara. Abhimanyu gets angry with Akshara for throwing the party despite his warning.
Akshara waits for Abhimanyu. She falls sick. Abhimanyu takes care of Akshara. Kairav gets irked with Abhimanyu's attitude towards Akshara. Elsewhere, Rudra instigate Arohi against Abhimanyu. Arohi decide to avenge Abhimanyu. In the meantime, Akshara decide to work at charitable hospital against Abhimanyu's wish. Abhimanyu allows Akshara to go ahead with her decision. Towards the end of the week; Abhimanyu wishes to learn guitar. He decides to take Akshara's help in playing guitar. Rohan inform Abhimanyu that Rahmani's son is asking for follow up. Abhimanyu recall Rudra's word. He asks Rohan to refer Rudra to some other hospital. Arohi gets angry learning Abhimanyu banned the entry of Rudra at the hospital. She says no sooner Abhimanyu learned that Rudra has offered her a job he got insecured and restricted his entry. Arohi decide to avenge Abhimanyu.
Harsh confront Neel about signing the important papers. Neel says staff out there said he is from the same family thus he signed the papers. Harsh asks what did staff said. Neel say staff said that he is Birla too thus he can sign on the papers. Harsh says to Neel dare he calls himself a Birla. He adds he is in the family but he is not Birla by blood. Neel gets upset. Harsh asks Neel to be careful from next and remember his place. Neel walks away with the tears in his eyes. Manjiri stands teary. Harsh asks Manjiri to get him tea.
Arohi gets irked. Vansh brings ice-cream for Arohi. Arohi speaks rudely with Vansh. Vansh asks Arohi to keep her professional life separate. Arohi calls Akshara. Akshara fails to receive the call.
Neel cries. Akshara console Neel. Neel asks Akshara not to share with Abhimanyu else he will not keep quiet. Akshara assures Neel. Neel says Harsh is right as he shouldn't have signed the papers. Akshara asks Neel not to feel bad. She cheers up Neel and says he is Abhi's and Manjiri's favourite and has all the authority as family loves him equally. Akshara asks Neel to consider her friend too. Neel leaves the place.
Manjiri think if only she would have courage to tell the truth. Akshara bumps into Manjiri. She tells to Manjiri that she has an idea about the adoption. Manjiri gets restless. Manjiri asks Akshara to stay away from her personal life. Akshara senses Manjiri is hiding something. She think more than furious, Manjiri is scared.
Afterwards, Akshara sees Abhimanyu is tired. Abhimanyu share talk with Parth. Akshara decide to do something from Abhimanyu. She prepare soft pillow for Abhimanyu. Abhimanyu gets impressed. Akshara receives Arohi's call. Arohi gets mad at Abhimanyu for interfering in her life. She tells Akshara about Rudra. Akshara tries to make Arohi understand that Abhimanyu would have some good intention behind stopping her from joining Rudra's hospital. Arohi gets irked with Akshara. She decides to fetch an opportunity to avenge Abhimanyu.
Akshara sees Abhimanyu's childhood picture. She recalls a picture on adoption papers and doubts what Abhimanyu was doing with Manjiri instead of Neel in the picture. Akshara recalls Abhimanyu's promise of keeping herself away from family issues.
In the upcoming episode, Harsh will berate Akshara for calling Abhimanyu at Charitable Hospital and playing with her reputation. How Abhimanyu will react on Harsh's accusation will be interesting to watch.
Stay tuned for TV serial update