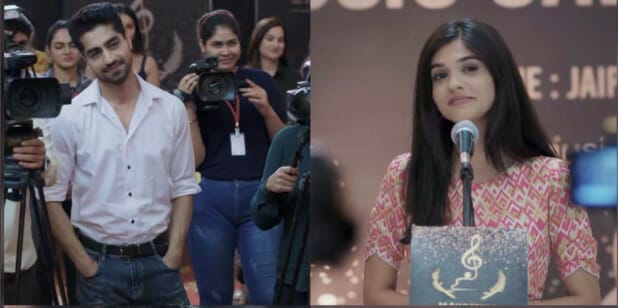 Yeh Rishta Kya kehlata Hai Spoilers, Upcoming Story, Latest Gossip , Future Story, Latest News and Upcoming Twist on TellyExpress.com
Abhimanyu will hear Akshara's voice over the call. He will decide to go back to Jaipur to get his answers from her.
In today's episode, Manish sees Abhimanyu and steps back. Abhimanyu recall Anand slapping Manish. He says he failed to stop whatever happened that day but not today. Akshara stand behind the stage and hears the speech of the singers out there. She dreams about acknowledging Abhimanyu's support in her speech. Akshara and Abhimanyu confess love for each other in former dream. Back to reality; Akshara says one day she will turn her dream into a reality
Abhimanyu says no one matter to him other than Manjiri. He talks about Manjiri being maligned. Abhimanyu asks Goenkas to apologize to Manjiri. Harsh tries to interrupt but Abhimanyu stops him. Akhliesh says he didn't splashed mud intentionally on Manjiri and it was just an accident. Abhimanyu says in a civilized society even for unintentional accident one has to say sorry. Akhliesh says than list will go wrong if he will start counting their mistakes. He adds Birlas should equally apologize to them. Suhasini says Akhilesh's action was unintentional and she can swear on Akshara. Abhimanyu asks Goenkas and Birlas to stop fighting. Later, Manish accuses Abhimanyu for not finding Akshara and throws him out from the house.
In the upcoming episode, Shefali will call Abhimanyu from the singing event. Abhimanyu will hear Akshara's voice and will decide to chase her. Elsewhere, Akshara will turn hopeful about meeting Abhimanyu. Will Akshara, Abhimanyu be able to meet each other? Keep watching the show for more entertainment.
Stay tuned for TV serial news and updates