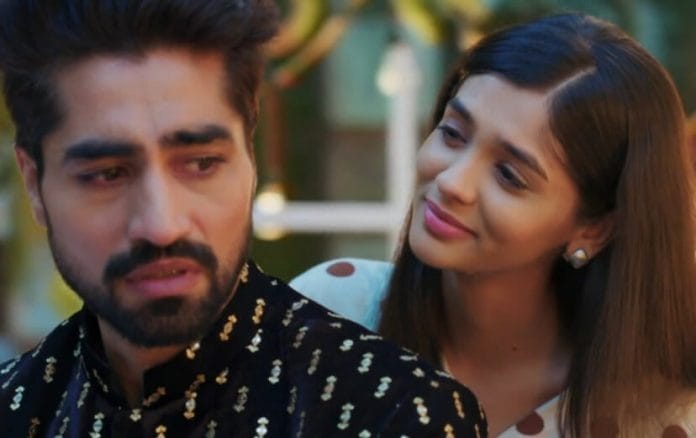 Yeh Rishta Kya kehlata Hai Upcoming Story, Spoilers, Latest Gossip , Future Story, Latest News and Upcoming Twist on TellyExpress.com
Happy days to be back soon in Akshara and Abhimanyu's life. Kairav will be proved innocent in Anisha's murder case. Abhimanyu and Akshara will reunite in Yeh Rishta Kya Kehlata Hai
In today's episode, Akshara put Abhimanyu to the sleep. Manjiri sees Abhimanyu sleeping. She says Abhimanyu didn't sleep from past one year. Manjiri says Abhimanyu is sleeping peacefully in Akshara's lap. She says Abhimanyu needs Akshara in his life. Manjiri wish for Akshara and Abhimanyu's togetherness.
Arohi disturbs Abhimanyu and Akshara. She asks Abhimanyu and Akshara to chill later. Abhimanyu and Akshara tries to talk but gets interrupted by a staff. Akshara and Abhimanyu join Neil and Arohi's ceremony. Arohi flaunts her bangle. Akshara stand stunned. Arohi receive a message from Atul. Akshara checks the message secretly. She wonders what papers Arohi's lawyer is preparing. Mahima share with Anand that soon Goenkas smile will fade as tomorrow is hearing. She further tells to Goenkas that Arohi and Neil's marriage should be done after three days. Goenkas decide to focus on the hearing.
Elsewhere, Kairav gives Akshara's letter to Abhimanyu. He asks Abhimanyu to not let Akshara know about it.
Abhimanyu checks the letter and voice note from Akshara given by Kairav. He sits stunned learning about Akshara's love for him. Akshara looks for proof to save Kairav and Manish. Neil asks Mahima and Anand to withdraw the case. Mahima and Anand get furious. Abhimanyu too tries to convince Mahima to withdraw the case.
In the upcoming episode, Abhimanyu will decide to find Kairav's innocence prove. Will Akshara, Abhimanyu be able to save Kairav and Manish? Time will tell
Stay tuned for TV serial news and updates