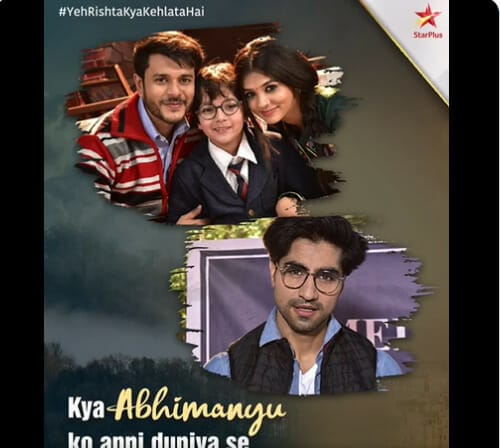 Yeh Rishta Kya kehlata Hai Upcoming Story, Spoilers, Latest Gossip , Future Story, Latest News and Upcoming Twist on TellyExpress.com
Abhimanyu to help injured Abhinav in Yeh Rishta Kya Kehlata Hai.
Longest running show Yeh Rishta Kya Kehlata Hai is high on drama. In today's episode, Akshara gets a panic attack. She regrets stopping Abhimanyu from eating sweet potato. Akshara asks God to let her live in peace. She says with lots of difficulty she made world for herself. Akshara fear if her world will destroy. Akshara gets a panic attack. Abhimanyu asks Akshara to breathe. Akshara's health worsen. Abhimanyu asks Akshara to sing. Akshara refuse to sing. Abhimanyu decide to call Abhinav. He goes to take water. Abhir plays mouthorgan for Akshara. Akshara gets normal. Abhimanyu steps back.
Later, Muskaan asks Abhinav to share his love story. Abhinav asks Muskaan what she is saying as he doesn't have any lovestory. Muskaan asks Abhinav to make a love story.
Abhinav tells a fake love story about him and Akshara. Abhimanyu gets the flashes of his meeting and love story with Akshara. He gets restless about learning Abhir coming into the world and Abhinav explains the feeling. Abhimanyu and Akshara both leave the place.
Neelima share with Akshara that Muskaan wants to work in other city. Akshara asks Neelima not to worry as she will settle Muskaan wherever she will get the job. Neelima thanks Akshara. She further asks Akshara if she don't want Abhinav in her life. Abhimanyu think why he is feeling bad seeing Akshara with Abhinav. He decides to move on like Akshara in his life.
In the upcoming episode, Akshara will demand Abhimanyu not to return back ever. Abhinav will get injured. Akshara will take Abhimanyu's help. Will Abhimanyu help Akshara and Abhinav? Keep watching the show for interesting twist.
Stay tuned for TV serial news and spoilers