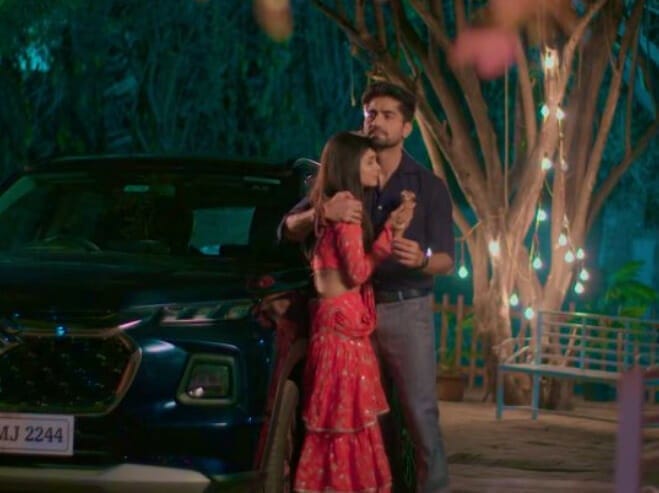 High voltage drama in Harshad Chopda, Pranali Rathods' Yeh Rishta Kya Kehlata Hai. Arohi will get irked post Abhimanyu will correct Neil on taking decision without his concern. She will also learn about Akshara's pregnancy complications and will decide to avenge Abhimanyu by disclosing it to Akshara.
In today's episode, Abhimanyu looks for Akshara. He thinks she might be stressed but she will not share.
Abhimanyu worries Akshara is not well and if she will take stress than her health will be affected. Akshara enters the room. Abhimanyu, Akshara decide to delete what all happened. Both decide to go on a long drive to divert their mind. Akshara and Abhimanyu enjoy their drive. Akshara talks about baby. Abhimanyu recall about Akshara's pregnancy complications.
Ahead, Akshara disclose to Abhimanyu that from past one-year she controlled herself from having ice-cream as she co-sings for Maya. Abhimanyu gets shocked hearing Akshara. He also pray to God to give him the solution before Akshara learns about her pregnancy complications.
Mahima and Arohi talk with each other. Mahima share with Arohi that she deserves a MD position in Birla hospital before Abhimanyu. Arohi decide to be in everyone's good books so that she can get her share in Birla hospital too. Akshara fail to hear Mahima and Arohi's conversation. Arohi decide to be careful of Akshara.
In the upcoming episode, Abhimanyu will learn about Neil changing the order of the patient who was supposed to get the kidney first. He will confront Neil. Neil will lose his cool on Abhimanyu. He will misbehave with Akshara in the process. Will Abhimanyu, Neil's rift bring more trouble for Akshara? Time will only tell.
Stay tuned for TV serial latest updates