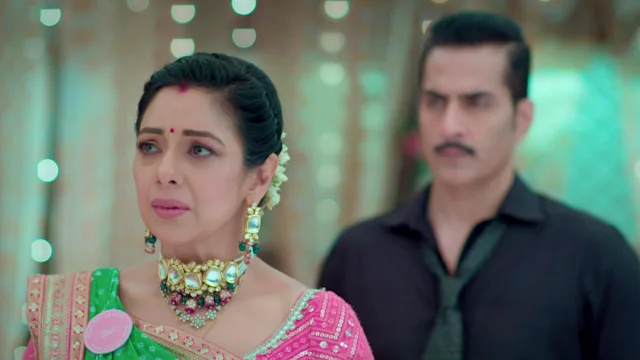 Anupama Upcoming Story, Spoilers, Latest Gossip , Future Story, Latest News and Upcoming Twist on TellyExpress.com
Adhik and Pakhi's meeting will stress Anupama and Vanraj.
In today's episode, Anuj asks Anupama to confront Adhik as she has a right too. Anupama and Anuj decide to support each other. Anuj console Anupama and cheer her up. They walk hand in hand. Anupama thanks Anuj for being her strength. Anuj thanks Anupama for becoming his wife.
Anupama confront Adhik about his relationship with Pakhi. Barkha says to Anupama not to stress as she has talked with Adhik and he will keep a distance with Pakhi. Adhik takes a stand for Pakhi and his friendship. He says they have just started liking each other and nothing else. Anupama asks Adhik than what was the need to take Pakhi to the room. Adhik and others stand stunned. Anupama add one should always keep his/her family in the mind before doing anything. She asks Adhik to focus on career more. Anupama say every Parent want to see their child successful. She says keeping a friendship is not wrong but they should go slowly. Anupama asks Adhik if he has befriended Pakhi than he should talk with her as she isn't going to understand anyone from now.
Vanraj apologize to sleeping Pakhi. He says she is not mature and got infatuation towards Adhik's lifestyle. Vanraj says he will get Pakhi a best education and will find a suitable boy. He decides to distance Pakhi from Kapadia's. Pakhi wakes up post Vanraj leaves her room.
In the upcoming episode, Vanraj will drop Pakhi to the college. Pakhi will go to meet Adhik. Anupama will spot Adhik and Pakhi together. How Anupama will react on Pakhi and Adhik's meeting will be interesting to watch.
Stay tuned with us for more TV serial news and updates