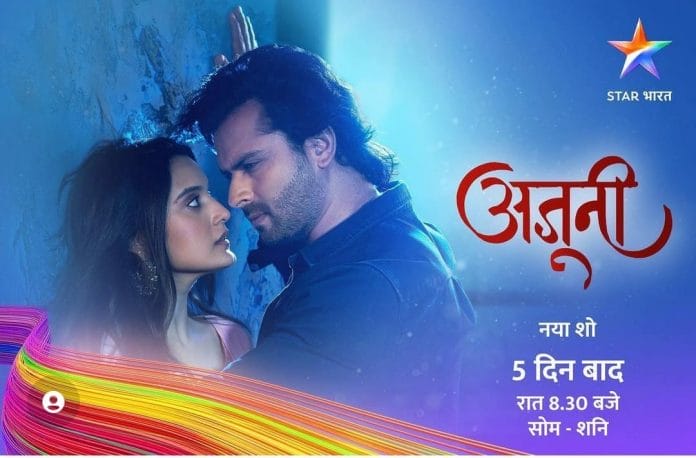 Ajooni 10th January 2023 Written Update on TellyExpress.com
Episode begins with Shikha thinks that everyone will blame her for Aman's condition. She throws things on the floor and screams theif. Everyone comes there. Ajooni splashes water on Aman's face. Aman regains her consciousness and says that someone attacked her from behind. Ravinder tells Mangi Ram to close the main door. He confirms that Aman is fine. Light comes. Mangi Ram aaks Harsh about issue. Harsh tells him about fuse and says that he don't want money.
Ravinder stops Harsh from leaving the house. Ajooni notices Shikha glaring Harsh. She says that Harsh must be theif. Mangi Ram checks Harsh's belongings on Ravinder's behest. Shikha notices her photo in Harsh's wallet. Mangi Ram finds nothing in Rahul's belongings and he returns the wallet to Harsh. Ravinder tells Rajveer to warn the security guard. He orders Mangi Ram to buy guard dogs.
Next day, Mangi Ram gives things to Chamko which Baggas wanted. Shikha mixes itching powder in Ajooni's powder without anyone's knowledge. Chamko tells Shikha to make tea for Ravinder. Shikha learns that Chamko is going to give the powder to Bebe. She gets worried seeing powder in Bebe's hand.
Bebe applies powder on her face and it's starts itching. She calls Chamko and goes to hall. Everyone gathers in the hall. Bebe slaps Chamko for giving wrong powder. Chamko tells her that Mangi Ram brought things from shop. Bebe claims that Chamko did it deliberately. Ravinder orders Chamko to apply powder on her face. Shikha smriks seeing that and she thinks that she ruined Chamko's day for ruining her sleep. Harman gives ice pack to Bebe.
After some time, Ajooni's Beeji and Neeru comes there. Rajveer takes their blessings. Ravinder welcomes them. He tells Shikha to arrange breakfast for them. Beeji tells him about 'Satyanarayan Katha' which Ajooni and Rajveer has to do according to their family tradition. Shikha serves tea to Ajooni's family.
Bebe says that she has one condition. She tells them that they also have family tradition and so according to that Rajveer and Ajooni has to do 'kuldevi puja'. She says that they can keep 'Satyanarayan Katha' later because 'kuldevi puja' will happen first. She adds that her daughter in laws will do puja. She introduces Shikha as her daughter in law. Shikha smiles hearing her. Neeru gets shocked hearing her and tries to say something but Bebe interrupts. Shikha tells Bebe that let Ajooni's family do 'Satyanarayan Katha' first. Bebe tells her that no need of that. She orders her to call her mother tomorrow. Ajooni tells her family that they can keep 'Satyanarayan Katha' later. Bebe invites Ajooni's family for puja.
Episode ends.
Precap – Ajooni refuses to wear the outfit which Rajveer selected for her. Shikha steals Ajooni's outfit which she kept to wear for puja. Next day, Ajooni tells Baggas that her puja outfit is missing. Harman says that she saw one outfit in the dustbin.
Click to read