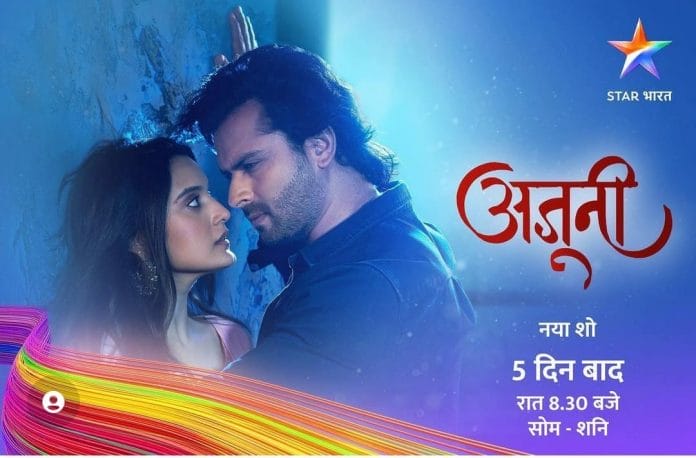 Ajooni 14th September 2022 Written Update on TellyExpress.com
Episode begins with Aman gives shampoo to Harvinder. Harvinder goes to take path. In the kitchen, Ajooni asks Aman about Rajveer's breakfast. Chamko tells her that she made it. Harman comes there and she sees Ajooni. She learns that there is no curd in the house. She scolds Aman. She says that Rajveer won't eat without curd. Ajooni leaves from the kitchen.
Aman and Chamko serves breakfast. Rajveer asks for curd. Aman says that there is no curd in the house. Ravinder scolds them. Bebe taunts Harman and Aman. She asks that where is Ajooni. Harman tells her that Ajooni escaped when Ajooni heard about curd. Rajveer says that he don't want curd. Ajooni serves curd to him. They smiles at each other ( Title song plays in the background ). Rajveer eats his breakfast.
Meanwhile, Harvinder screams. Everyone gathers in the hall. They gets shocked seeing Harvinder's bald head. Harvinder blames Aman for his condition. He asks her that what she mixed in the shampoo. Bebe tells Aman that she won't spare her. Aman says that she did nothing. Chamko brings whip on Babe's behest. Ajooni stops Harvinder from hitting Aman with whip. She says that she gave that shampoo to Aman. She snatches the whip from him and throws it away. Harvinder says that Ajooni is behind his life.
Harman asks Ravinder to say something. She says that Ajooni crossing all the limits. Ajooni says that she did not mix anything in the shampoo. She tells Rajveer that she was supposed to use that shampoo. She says that she would be the victim if she used the shampoo then. Harman says that Ajooni started her drama.
Harvinder asks that what about his head. He says that he has to go to meet Shikha. Ravinder tells him that he will make sure that, the culprit become bald head. He asks Ajooni that if she did this because she is against Harvinder's second marriage. Ajooni defends herself. She tricks Harman. Harman blurts out the truth. Ravinder and Harvinder glares Harman. Ravinder asks Harman about shampoo name. Harman tells him that she don't know. He tells her that she planned all this for Ajooni. He orders Chamko to bring water in bucket and shampoo too.
Ravinder pours water on Harman's hair. He is about to apply shampoo on Harman's hair. Ajooni stops him. She asks him to forgive Harman. She says that Harman did that because she hate her. She says that she don't want Harman to get punished like this. She says that Harman is daughter in law and lakshmi of this house so she deserves to live with respect. Rajveer says that Ajooni is right. He asks Harvinder to say something. Harvinder remains silent. Rajveer asks Harman to see who is standing for her. He asks Ravinder to spare Harman. Ravinder warns Harman to stop executing her foul plans.
Episode ends.
Precap – Rajveer gives the ring to Ajooni which he bought for their engagement. She makes him wear it on her finger. He places a kiss on her hand.
Episode begins with Harman tells Rajveer that they knows he can't start a family so Ravinder fixed Harvinder's marriage. She says that Harvinder's marriage will happen next week. She says that Aman is useless so she will throw her out of the house and leaves from there. Rajveer asks Ajooni to not call him selfish from now on and leaves from there.
An intoxicated Harvinder enters his room. He asks Aman that where he should go for his honeymoon. He says that he is so happy today. He asks her that if she ate laddu. Aman nods at him. He tells her that she is also happy with his marriage. He forces her to drink but she pushes the bottle. He tells her that Ajooni was blaming him because of her. He pushes her and he falls asleep.
Aman enters the kitchen. She tries to cut her wrist. Ajooni stops her. Aman tells her that she don't want to stay alive. She asks her that why the latter saved her. She says that Harvinder's marriage got fixed and she can't do anything. Ajooni promises to her that Harvinder's second marriage won't happen. Aman cries hugging her. Ajooni enters her room. Rajveer tells her that he will sleep on the floor. She shook her head. He tells her that he will sleep on the terrace. She shook her head again. She tells him that she is ready to start a family. She says that she is ready to get pregnant to help Aman. He gets shocked hearing her.
Click to read