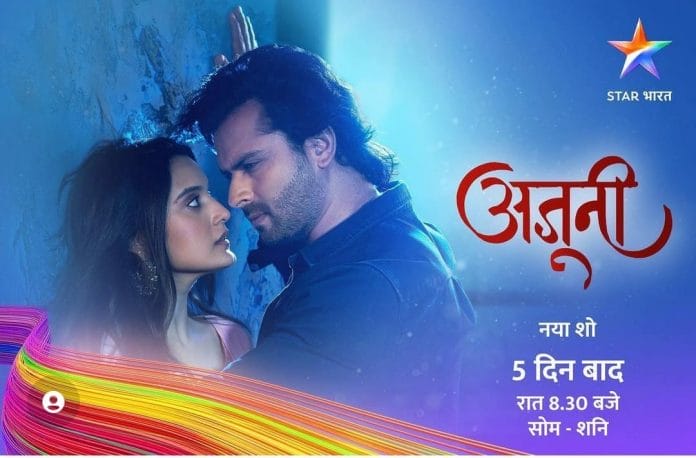 Ajooni 16th January 2023 Written Update on TellyExpress.com
Episode begins with Ravinder tells Shikha that he saved her from Durga today but she should not forget that she is guest in this house. He says that he know who is behind all the drama. He warns her to not do something like this again and goes inside. In the room, Rajveer back hugs Ajooni. Ajooni pushes him saying that others may see. He gets angry hearing her. He asks her that can't he get romantic with his wife. She tells him that she is daughter in law of this house too and it won't be good if anyone saw them like this. She says that family members have few expectations from her and he won't understand that. She adds that this duppata is light but she has to put it on her head which comes with huge responsibility. He tells her that today is Lohri and during Lohri celebration he will remove it and she has to say "I love you" to him in front of everyone. She accepts the challenge. He hugs her ( Title song plays in the background ).
Later, Ajooni and Durga brings Aman. Bebe asks Harman that if Durga will spoil their Lohri celebration too. Durga tells her that she won't spare Shikha if Shikha caused problem for Aman then. Ravinder informs Bebe that Sethi and his wife coming today and he is planning to talk to Sethi about Rajveer's ticket so she should not do any drama. Bebe tells him that she never create drama.
Ravinder requests Durga to control her anger too. Durga gets angry seeing Harvinder and Shikha coming together. Harman asks her to not get angry and she will explain Harvinder because today is big day for Rajveer and Ajooni and they supported Aman always. Durga tells her that Ajooni's happiness matters for her too so she will remain silent. Ravinder tells Harman to take care of Aman because Aman is intoxicated still. He asks Ajooni about Rajveer.
Few lady dancers comes there and disguises Rajveer is one of them. Ravinder welcomes Sethi and his family. Rajveer dances around Ajooni. Ajooni wonders that where is Rajveer and she gets shocked seeing him. He dances with her. Everyone dances. Shikha sees Rajveer and she plans to expose him in front of Sethi. She removes Rajveer's veil. Everyone gets shocked seeing Rajveer.
Aman screams to play dhol. Party man asks Ravinder that what is all this. He says that Rajveer won't respect his party if he can't even take care of his family's respect. Sethi tells him that it's important to enjoy in the celebration. He defends Rajveer's actions. He says that he know Rajveer can handle the party because Rajveer know to differentiate between personal and professional life. Rajveer goes inside to get ready.
Later, Baggas celebrates Lohri. Ajooni asks permission from Bebe to play antaksari.
Episode ends.
Precap – Ajooni tells "I love you" to Rajveer while playing antaksari.
Click to read