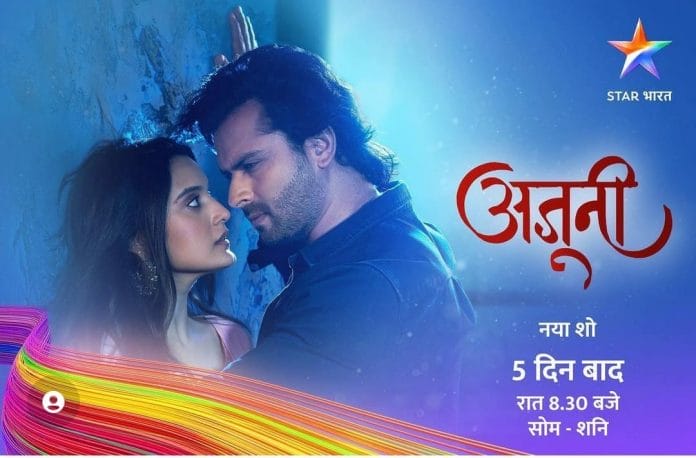 Ajooni 16th September 2022 Written Update on TellyExpress.com
Episode begins with Dolly spots Ajooni and Aman in the hospital. She wonders that what are they doing there. Neelam tells Dolly to take all the medicines. On the other hand, Ravinder tells Harman and Bebe that house is silent today. Harman informs him that Ajooni and Aman went to temple. Harvinder returns from meeting Shikha.
Ravinder tells him that Shikha must have asked about his bald head. Harvinder tells him that Shikha is not like that. Ravinder says that soon Harvinder will go behind his wife like Rajveer. Harvinder asks him to not compare him with Rajveer. He says that he will give grandson to him within an year. He asks him to call Shikha's father and fix the marriage. Ravinder tells him to call Shikha's father.
Ajooni snatches the phone from Harvinder. She asks him to tell Shikha's father that this marriage won't happen. Harvinder asks Rajveer to handle Ajooni. Ravinder asks Ajooni that if she can't stay without doing any drama. Ajooni tells him that Aman can get pregnant. Harman asks that how this magic happened. Ajooni says that she took Aman to the hospital for medical test. She says that Aman can get pregnant according to medical report. She tells Harvinder to take a medical test.
Harvinder scolds Aman for going to hospital without informing him. He says that she joined hands with Doctor to prove him wrong. Ajooni tells Bebe that she lied but because of that lie only she could find out the truth. Ravinder asks her that if she is trying to say Harvinder has problem. She tells him that she just proved that Aman don't have any problem to get pregnant. Bebe asks her that why Aman did not get pregnant yet if she can get pregnant then.
Ajooni tells her that sometimes it's possible to not get pregnant even though there is no problem in parents. She says that Harvinder should take a medical test, then only they can start the treatment. Bebe asks her that who is the latter to say all this. Harman tells Ravinder that he should throw Ajooni out of the house. Rajveer says that no one talks about good thing in this house and if Ajooni does, everyone has problem with it too. Bebe asks him to not give lecture.
Ajooni says that it's about Aman's life. Ravinder asks her that what proof she has. She gives Aman's report to him. He tears the report. He says that he won't let anyone insult Harvinder. He scolds Aman. Harvinder drags Aman from there. Later, Ajooni tells Rajveer that it's about Aman's life. Rajveer tells her that he can understand that. Harvinder tortures Aman.
Meanwhile, Dolly's friend Surbhi visits Ajooni's house to meet Dolly. Meher welcomes Surbhi. Dolly asks Surbhi that what the latter doing there. Surbhi tells her that she got her message. She asks her that what happened to her voice. Meher tells her that Dolly drank vinegar. She makes fun of Dolly's voice. Surbhi laughs hearing her. Dolly sends Surbhi from there. Harvinder beat Aman up with belt.
Episode ends.
Precap – Ajooni tells Rajveer that she married him to get revenge on him. She says that she would preferred to live in hell than living in this house. Rajveer tells her that she must be happy after taking revenge on him.
Episode begins with Rajveer thanks Ajooni for forgiving Harman. Ajooni tells him that she just did the right thing. He tells her that he have something to give her. He gives the ring which he bought for their engagement. She asks him to put it on her finger. He smiles hearing her. He puts the ring on her finger. He places a kiss on her finger. They are about to kiss and it turns out to be his dream. He tells her about ring. He keeps it on the table and leaves from there. She wears the ring. Harman sees everything. She tells Ajooni that the latter plays very well. She says that Ajooni even tricked Ravinder. She tells her that the latter trying to break the family but she won't let her achieve her goal.
On the other hand, Beeji asks Dolly to not drink too much cold water. Dolly scolds her. Meher screams seeing the dead cockroach. Dolly picks the cockroach and she scares Meher. Meher collides with Bharat when he was shaving. He gets cut on his cheek. Meher apologizes to him. Beeji scolds Meher. Bharat tells her that it was his mistake and he goes inside. Dolly tells herself that it was her mistake but innocent Bharat took the blame on himself.
Ajooni tells Aman that they should go to hospital for a test. She says that if Harvinder has problem then wrong will happen with Shikha too. She convinces her to go to hospital.
Click to read