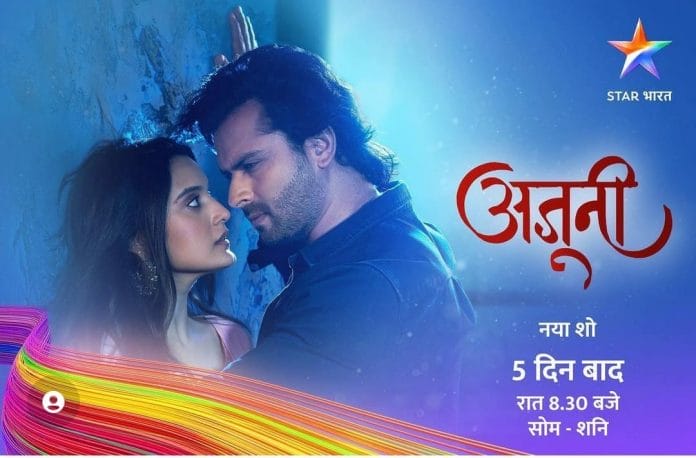 Ajooni 17th November 2022 Written Update on TellyExpress.com
Episode begins with Rajveer asks Shikha that what happened to Harvinder and who killed his brother. Shikha tells him that she don't know anything about it. He drags her from there. After some time, Ravinder threatens Shikha by showing gun. He tells her that he won't stay silent until he finds out the person who killed Harvinder. On the other hand, Aman cries seeing her and Harvinder's photo. Ajooni consoles her. Chamko informs them that Rajveer brought Shikha. They goes to hall.
Shikha tells Ravinder that she did nothing. She says that she loved Harvinder and even he wanted to marry her. Ravinder asks her to tell that what happened with Harvinder. Ajooni says that Shikha was with Harvinder before the accident. Ravinder scolds her for interfering. Shikha says that Harvinder dropped her at her home and left for Bagga house that day. Rajveer asks her that why she was hiding if she did nothing then. She says that she thought she will be murdered too like Harvinder. Everyone gets shocked hearing her. Shikha says that Ajooni murdered Harvinder. Ajooni says that Shikha is lying. Shikha says that she saw Ajooni threatening Harvinder to kill him. Rajveer asks her to stop lying.
Police inspector comes there. Ravinder takes him to his room. Police inspector shows hotel car parking ticket to him which is burnt. He says that he got a phone in Harvinder's accident spot. He plays the recording which states that Ajooni is threatening Harvinder to kill him if he harmed Rajveer then. Ravinder takes the phone from him. Police inspector says that Harvinder's jeep brake has been failed deliberately. He adds that he don't think it's an accident. Ravinder asks him to not tell about it to anyone because Rajveer's election coming. Police inspector leaves from there. Mangi Ram asks Ravinder to not punish Ajooni now or else Rajveer will come in between them. He says that they need solid proof against Ajooni.
Ravinder tells Rajveer that it was not an accident but murder. He informs him about jeep brake fail. He says that Shikha can't leave until they finds out the truth. He asks Rajveer to investigate the case. Rajveer leaves the house. Ravinder says that he won't spare Ajooni. He plays the recording of Ajooni. Shikha smirks.
Rajveer reaches the hotel and asks receptionist that if Harvinder came there by showing his photo. Receptionist tells him that Harvinder came with another guy and a lady. He gives the purse which that lady forgot. Rajveer says that that's Ajooni's purse. Ravinder punishes Ajooni. He asks her to tell the truth. Ajooni tells him that she did nothing. She pleads him to open the door. She struggles to breathe.
Episode ends.
Precap – Police inspector gives band to Ravinder saying that it was found in the hotel. Ravinder beat Rajveer up. Rajveer confesses that he killed Harvinder.
Click to read