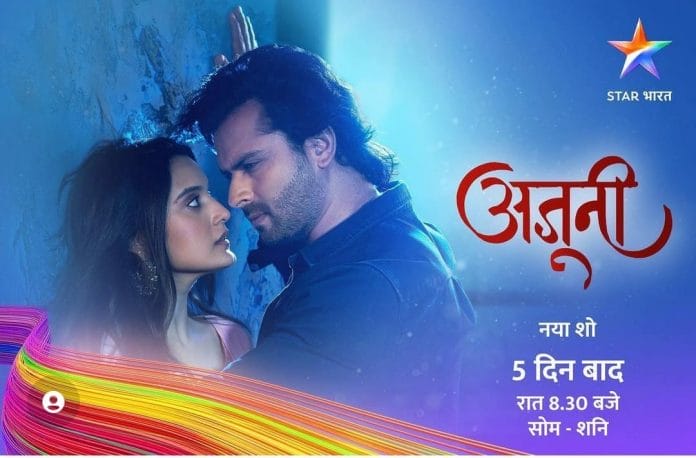 Ajooni 18th January 2023 Written Update on TellyExpress.com
Episode begins with Ravinder says that he is not Dolly's servant to go to park to meet Dolly. Bebe asks him to not get angry. She says that she will teach a lesson to Dolly once Dolly returns. He tells her that he is hurt because Dolly is doing like this. He says that Dolly is not his daughter. He warns his family members to not meet Dolly. He adds that Dolly is dead for him. He burns Dolly's letter and claims that now Dolly is not part of Baggas and goes inside. Shikha thinks that she has to add fuel in this fire.
Harvinder comes out of the room. Shikha notices bruises on him and she finds Aman on the bed. She asks him that what happened yesterday night. He tells her that Aman was in intoxicated state and he did nothing. She scolds him for not stopping Aman. She says that she is sure he would have betrayed her too if she did not forced him for marriage then. He tells her that he married her and asks her to keep quiet and leaves from there.
Chamko comes there and says that seems like bhang did it's job. She tells Shikha that now the latter has to stay in her room permanently. She says that she know Shikha mixed bhang in the milk. She tells her that the latter fell in her own trap and laughs. Shikha tries to slap her but the latter holds her hand and warns her. She thinks that she won't spare Chamko.
Later, Chamko cooks food for Bebe and leaves the kitchen. Shikha steals the food from the kitchen. Chamko tells Bagga ladies that food is missing. Harman asks her to search properly. Chamko tells her that it's not there. Bebe slaps Chamko. Harman tells her that she will cook her for something. Bebe scolds her for supporting Chamko. She orders Chamko to not eat anything today as punishment. Harman tells Ajooni to give milk to Bebe. Chamko learns that Shikha is behind everything.
In the park, Dolly eats samosa. She notices that she has just 10 rupees and she tells about it to samosa vendor. He scolds her for eating samosa without money. She tells him that she is Ravinder Bagga's daughter. He refuses to believe her and he mocks her. Everyone laughs at her. She gives her watch to samosa vendor and leaves from there.
Shikha gives apple to Bebe. Chamko gives medicine to Bebe. Shikha tells Bebe that Chamko giving wrong medicine to take revenge. Bebe beat Chamko up. Chamko defends herself. Bebe orders Harman to beat Chamko with stick. Harman refuses to beat Chamko. Ajooni tells Bebe to find out the truth first. She says that she think Shikha is behind all this. She adds that Shikha would have mixed bhang in the milk. Harman says that she also think Shikha is behind all this. Shikha acts like crying. Bebe consoles her. She drags Chamko to throw her out the house. Shikha helps Bebe. Harman and Ajooni tries to stop Bebe.
Episode ends.
Precap – Dolly joins hands with Harsh against Baggas. Chamko complains about Shikha to Bebe.
Click to read