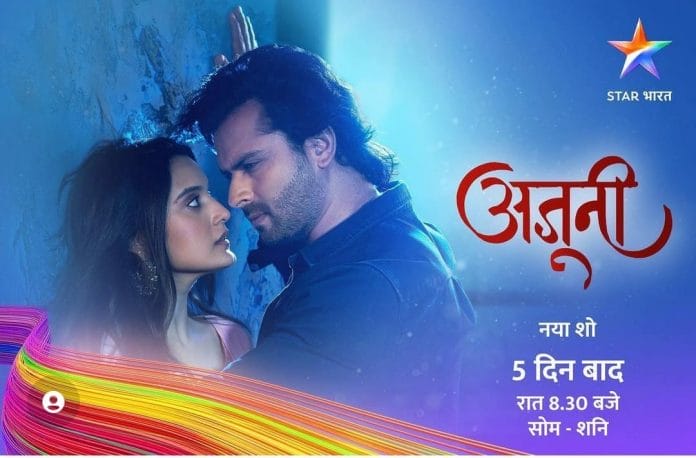 Ajooni 19th August 2022 Written Update on TellyExpress.com
Episode begins with Ajooni says that she did not push Dolly. Harvinder is about to attack Ajooni but Rajveer comes in between them. Rajveer says Ajooni is his wife and he won't leave Harvinder if he even touch Ajooni. Harvinder says he is ashamed to call Rajveer as brother. Bebe asks them to stop it. She says she knows Aman never lies. She asks Aman what exactly happened. Aman tells her Ajooni did not push Dolly. Harvinder orders her to clean the oily floor. Aman cleans the oily floor. Rajveer says that they unnecessarily suspects Ajooni. Dolly says that Ajooni is not naive. She tells Bebe that Ajooni really changed her toe rings.
Bebe asks Ajooni to show her legs. Ajooni shows her legs. Bebe scolds her for changing toe rings. Rajveer tells her it was not Ajooni's mistake. He shows the broken pieces of toe rings. He says that it broke because it was old so he brought new toe rings for Ajooni. Dolly tells Bebe that Ajooni accused her of putting chilli powder in the food. Aman tells Bebe that Ajooni did not take anyone's name. Dolly scolds her for interfering. Ajooni tells her to apologize to Aman for talking like that.
Ravinder comes there. Bebe scolds Ajooni. She asks Dolly that where is Harman. Dolly tells her that Harman left for temple. Ravinder gets angry that Harman did not inform him. He tells his sons to deal with their wives. Harvinder drags Aman to a room and locks the door. He beat her up with belt. Aman pleads him to not beat her up. Ajooni asks Harvinder to stop it. Rajveer asks her to not interfere. Ajooni asks him that how can he ignore all this and leaves from there. Dolly tells Ajooni that one day Rajveer will treat Ajooni like this. Harvinder leaves the room. Rajveer feels bad seeing Aman.
After some time, Aman hides her bruises from Ajooni. Ajooni applies ghee on her bruises. She asks her why the latter tolerating all this. Bebe says that Aman is not getting pregnant and that's biggest sin and leaves from there. Aman tells Ajooni that she is unlucky and she has to tolerate all this because she could not get pregnant. Ajooni asks for Aman's reports. Aman says that they never went to hospital.
Ravinder tells Rajveer to join politics. He says he wants Rajveer to become chief minister. He notices Harman's call and he disconnects it. Later, Harman returns. Ravinder taunts her. He asks her that where she went. She tells him that she went to temple of nearest village. He tells her that she deserves punishment for leaving the house without informing him. He asks her to stay outside the house whole night. He throws her out of the house. Ajooni goes outside and she tells Harman that the latter did nothing wrong. Harman scolds her. She tells her to go inside. Ajooni tells Ravinder that he did wrong with Harman.
Episode ends.
Precap – Ravinder tells Harman to go to her mother house. He asks her to not show her face to him for 7 days. Harman tells Ajooni that she is in this condition because of her.
Episode begins with Bebe asks Ajooni to forget the past and cook food. Ajooni tells her that she can't cook non-veg. Bebe tells her that it's the latter's responsibility to take care of this family. She says that everyone likes non-veg in this house so Ajooni has to cook non-veg. She adds that no will tell Ajooni to eat non-veg. Ajooni tells her that she will cook non-veg. She says that she don't know to cook non-veg. Bebe tells Aman to help Ajooni. Dolly tells Bebe that she will help Ajooni too. Bebe leaves the kitchen. Aman helps Ajooni. Dolly puts chilli powder in Ajooni cooked food without anyone's knowledge.
After some time, Bebe tells Ravinder that Ajooni cooked today. She asks Aman to serve. Harvinder coughs after eating the food. Ravinder asks that who can eat this much spicy food. Harman scolds Ajooni. Bebe says that Aman will get punishment because it's Aman who taught cooking to Ajooni. Harvinder orders Aman to eat bowl of chilli powder. Rajveer asks him that what is all this.
Harvinder asks him to not interfere. Aman is about to eat chilli powder. But Ajooni stops her and she takes the bowl from her. She says she cooked food today so she will get punishment. She is about to eat chilli powder but Rajveer takes the bowl from her. Bebe asks him to leave the bowl. He eats chilli powder which shocks everyone.
Click to read