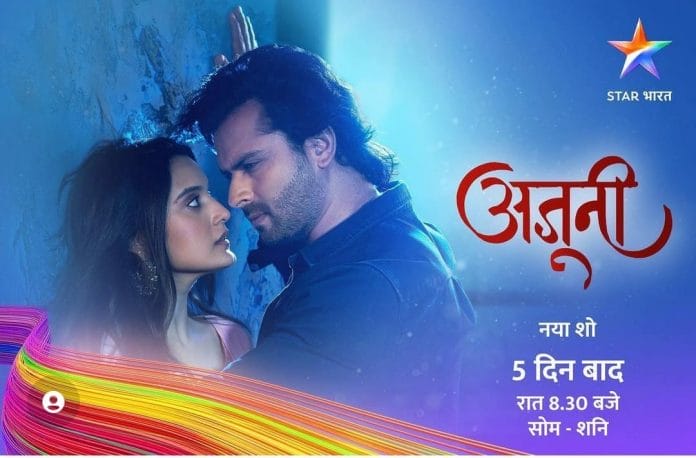 Ajooni 1st November 2022 Written Update on TellyExpress.com
Episode begins with Harman tells Ajooni that she want to open bank account for Aman. She gives her papers. She asks her to get Aman's sign on the papers. Ajooni leaves from there with papers. Chamko collides with Ajooni deliberately and changes the papers. Ajooni goes to Aman's room. Aman tells her that she told so much in anger. Ajooni tells her that that's fine. She tells her to sign on the bank papers. Harvinder calls Ajooni and talks to her in different voice to distract her. Aman signs on the divorce papers.
Harvinder comes there and praises Ajooni for her acting. He thanks her for helping him. Ajooni asks him that why he is thanking her. He says that Ajooni took Aman's sign on the divorce papers that's why. Aman and Ajooni gets shocked hearing him. Harvinder tells Ajooni that their work is over so she need not to act. He tells Aman that he don't have any relationship with her from now on. Aman pleads him to not leave her. He tells her that she left him by giving divorce to him. She tells him that she don't know to read and she signed because Ajooni asked her to do it. He tells her that he don't care about all that. He says that he can marry Shikha now and leaves from there.
Harman asks Ajooni that what is all this. Ajooni tells her that the latter gave those papers to her. Harman tells her that she gave bank papers. She asks her that how divorce papers came. Ajooni tells her that she don't know anything. Harman tells Aman that she never thought Ajooni will do something like this. Aman asks Ajooni that why the latter did this. Harman says that Ajooni did this for house key. Aman gives the house key to Ajooni. She asks Harman to stop the divorce. Ajooni asks Aman to trust her. She says that they can fight in the court. Aman yells at her and asks her to leave. Ajooni leaves the room.
Harvinder is about to leave the house. But Ajooni stops him. She asks him that why he did all this. He accepts that he is behind all this. He tells her that no one will trust her and leaves from there.
Aman wonders that why Ajooni did this. Harman provokes her against Ajooni. She tells her to stay as malkin. She asks her to get revenge on Ajooni by staying in this house. She reminds her that Ravinder gave permission to her to stay in the house after Harvinder and Shikha's marriage too. Aman tells her that she will take revenge on Ajooni.
Rajveer tells the problem to his friends. His friend says that everything happening due to Guru Maharaj. Rajveer agrees with him. They decides to find out the truth using PA. On the other hand, PA tells Bebe that party meeting going to happen in Bagga house. Bebe asks Aman to cook food. Aman gives orders to Ajooni and Chamko. Later, Ravinder stops his guests from eating. He sends them to farm house to eat non-veg. He asks Ajooni and Aman that who cooked.
Episode ends.
Precap – PA tells Guru Maharaj's words to Rajveer. Aman slaps Ajooni.
Click to read