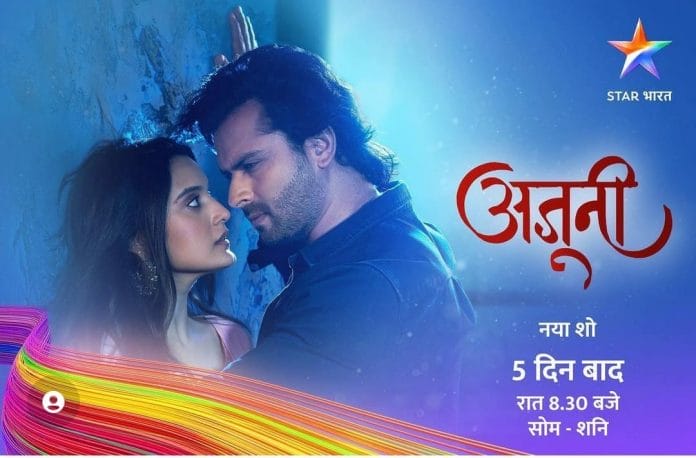 Ajooni 20th January 2023 Written Update on TellyExpress.com
Episode begins with Bebe orders Shikha to stand like statue as punishment. She tells Ajooni to put the photo frame on wall and leaves from there. Harman taunts Shikha and leaves from there. Rajveer laughs seeing Shikha and he taunts her. Bebe tells him about punishment.
On the other hand, Ravinder reaches the party office. Harsh takes his blessings. Sethi tells Ravinder that Rajveer will participate in the next election for sure. Ravinder tells him that they have to concentrate on party now. Sethi asks him about Ajooni. Ravinder tells him that Ajooni is doing well. Sethi notices Ravinder's poster and says that opposition party would have thrown mud on the poster. Ravinder tells him that they should ignore opposition party. Sethi leaves from there. Ravinder tells his men to find out who is behind that.
Dolly pretends like she is in danger. Ravinder saves Dolly from goons. One of the goon is about to stab Ravinder but Harsh saves Ravinder. Dolly pretends like fainting. Ravinder takes her from there.
After some time, Bebe asks Ravinder that what happened to Dolly. Ravinder tells her everything. She asks everyone to leave the room and let Dolly take rest. Harman tells Rajveer that it's our responsibility to take care of Dolly. Everyone leaves the room. Dolly gets up and says that she will ruin everyone's life.
Shikha changes the pose. Ravinder learns about Shikha's punishment. He makes her pose correctly. Shikha apologizes to Bebe. She says that she is feeling dizzy too. Bebe forgives her and leaves from there. Chamko taunts Shikha. Shikha decides to teach a lesson to Chamko and Harman.
Later, Harman talks about Dolly's marriage to Ravinder. Ravinder tells her that everyone know about Dolly so no one will agree to marry Dolly. He asks her to arrange white kurta because tomorrow he has to go for party meeting. Dolly overhears their conversation. Chamko keeps Ravinder's kurta on the table. Dolly colors the kurta without anyone's knowledge. Harman takes the kurta with her without seeing the color.
Dolly sneak into Shikha's room and she applies color on her hand. She recalls that how Shikha put all the blame on her. She thinks that she won't spare Shikha for backstabbing her.
Next day, Ravinder gathers everyone in the hall. He shows his kurta to Harman. Harman gets shocked seeing that. She tells him that she don't know how it happened. He is about to slap her. Ajooni stops him and tells him that she will make his kurta like before. She takes Rajveer with her for help. She stitches Ravinder's party design on the kurta.
Episode ends.
Precap – Ajooni explains Ravinder that why stitched his party design. Rajveer compliments Ravinder. Ravinder says that he won't spare the person who ruined his kurta. He checks everyone's hands.
Click to read