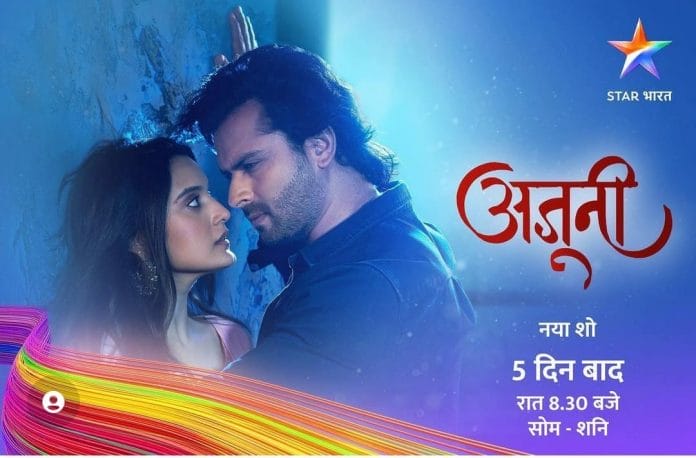 Ajooni 20th September 2022 Written Update on TellyExpress.com
Episode begins with Ajooni gets shocked seeing Avinash. She recalls the moments she shared with him. Avinash tells her that Doctor Khanna send him to treat Aman. He examines Aman. She picks Rajveer's call and she informs him about Doctor's arrival. She asks Avinash about Aman's condition. Avinash tells her that he injected Aman. She takes him to the hall. She asks for Doctor fees from Harman. Harman taunts Ajooni. She gives money to Avinash and goes inside.
He asks Ajooni that if she is fine. He says that he could understand what happened to Aman. He asks her about her husband. She tells him that he should go now. He moves from there. Rajveer enters the house. He gets angry seeing Avinash there. He beat him up for coming there. Ajooni asks him to stop it and it turns out to be her dream. Avinash asks Ajooni to take care of Aman and leaves from there.
Shikha ignores Harvinder's calls. Then she picks his call. He tells her that he could apologizes to her for whatever happened. She tells him that she has been proved wrong so he need not to apologize. She informs him that her father scolded her a lot. He tells her that they should have booked a room in the hotel. He blames Aman and Ajooni for everything. He promises to protect her after marriage. She tells him that they can talk about it later.
Ravinder gets angry seeing the news of Harvinder and Shikha. Reporters reports that Harvinder having an extra marital affair. He lashes out at Harvinder. Everyone gathers in the hall. Rajveer asks Ravinder that what happened. Ravinder says that Harvinder's second marriage will happen with Shikha. He says that he will announce Harvinder's second marriage on his birthday. He tells Ajooni that she can do whatever she wants to do. Everyone goes inside except Ajooni and Aman. Ajooni asks Aman to not worry about anything.
Dolly burns her clothe when talking about Ravinder's birthday to her friend. Meher sees that but remains silent. Bharat notices the iron box. He asks Meher that if she can't help Dolly. Meher tells him that Dolly would have accused her. Dolly smiles seeing Bharat scolding Meher.
Next day, Ajooni asks Aman that if the latter is feeling better. She asks her to take rest. Harman tells Aman to get up and do work. She says that Ajooni will mess up everything so she can't trust her. She drags Aman from there. Ajooni tells Rajveer that she can't see Aman like this. She says that she won't let this marriage happen. Rajveer asks her to not do anything. He tells her that today is Ravinder's birthday. He asks her to not do anything in front of guests. She tells him that she can't let anything wrong happen. He asks her to not expect his support and leaves from there. Meanwhile, Harvinder throws Aman's things away. He tells Aman to leave from his room.
Episode ends.
Precap – Ravinder announces Harvinder and Shikha's marriage. Ajooni says that this marriage can't happen.
Episode begins with Harvinder tells Aman to leave the room. Ajooni asks him that what is he doing. He tells her that he has to talk to Shikha. She asks Shikha to wait outside. He scolds her for telling Shikha to wait outside. He says that he is going to marry Shikha. She reminds him that Aman is his wife. Shikha instigates Harvinder against Ajooni. Ajooni scolds Shikha for coming in between Harvinder and Aman. Shikha asks her that why Aman need to live when she can't keep her husband happy. She says that no one cares about it even if Aman dies. Ajooni slaps her. Shikha calls her father and asks him to come to Bagga house. Ajooni asks Rajveer to gather everyone in the hall.
Later, Shikha's father asks Ravinder that what's all this. He says that this marriage can't happen now. Ravinder stops him. He says that he don't care about it if this marriage gets cancelled. He tells Ajooni that she will be punished for her mistake. Shikha says that she want to slap Ajooni as punishment. Ravinder tells her that she is an outsider still. He tells Ajooni that Rajveer will punish her. He asks Rajveer to punish Ajooni.
Rajveer tells him that he can't punish Ajooni. He tells Shikha's father that Ajooni slapped Shikha in front of him. He asks him that if the latter knows why Ajooni slapped Shikha. Shikha's father remains silent. Rajveer tells Ravinder that it's important to hear the story of both sides. He reveals that what Harvinder and Shikha did. He asks Shikha's father that what wrong Ajooni did by slapping Shikha. Shikha's father confirms that Rajveer telling the truth. Rajveer says that he won't let anyone go against Ajooni.
Click to read