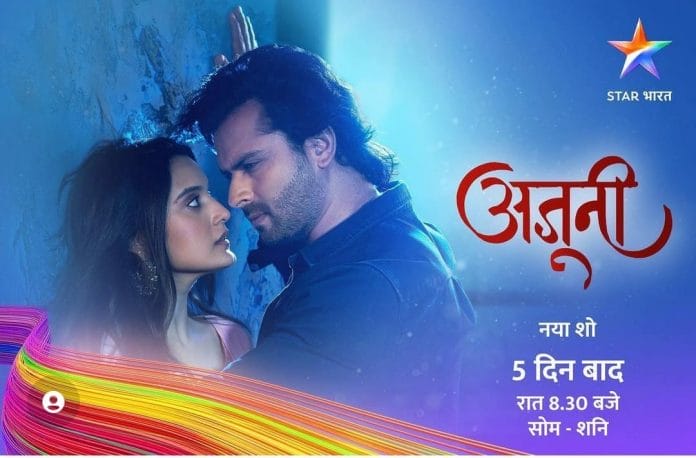 Ajooni 21st January 2023 Written Update on TellyExpress.com
Episode begins with Ajooni stitches Ravinder's party logo design on Ravinder's ruined kurta. Meanwhile, Harman tells Ravinder that she gave the kurta to Chamko to iron and she don't know how it happened. Chamko tells Ravinder that kurta was completely fine when she ironed it. Bebe scolds Harman for not taking care of kurta. Chamko notices color on Shikha's hand and she shows Shikha's hand to everyone. Shikha says that she just woke up and she don't know anything about color. Chamko tells Bebe that Shikha ruined Ravinder's kurta because the latter punished Shikha yesterday. Shikha says that she really don't know how this color came on her hand. Ravinder tells Rajveer that he is getting late.
After some time, Ravinder comes out wearing his kurta. Ajooni tells him that this design is related to his party and it will make him party lover. Rajveer tells Ravinder that everyone will be impressed seeing this kurta for sure. Bebe compliment Ravinder. Ravinder praises Ajooni for fixing his ruined kurta. He tells Harman to learn this skill from Ajooni. He says that he can't spare the person who ruined his kurta and he moves towards Shikha.
Shikha tells him that she did nothing. He says that he she should not have touched his kurta. He throws color on her dress. He orders her to apply color on her hands. He insults her. He tells her that she can't change dress today and leaves the house with Rajveer. Harman, Dolly and Chamko laughs seeing Shikha. Everyone goes inside except Shikha and Ajooni. Shikha blames Ajooni for everything. She says that she will take revenge on her. Ajooni taunts her and leaves from there.
Shikha's mother asks Shikha to not tolerate all that and stay in their house for few days. Few people comes there and asks them about Shikha's father. He says that Shikha's father took debt from his boss. He threatens them by showing a gun. He asks them to arrange money in two days and leaves from there. Shikha tells her mother that she will do something.
Ravinder tells Harman that today went really well due to Ajooni. Harman tells him that Dolly regrets for her mistakes so he should forgive her. She says that Dolly is scared to face him. She calls Dolly inside. Dolly apologizes to Ravinder. Ravinder talks about letter which confuses her. Harman asks him to forget the past. Ravinder says that he won't spare them if Dolly made mistake again then. He tells Harman that he is hungry. Dolly thanks Harman. Harman asks her to not repeat the mistake and leaves from there. Dolly wonders that when she asked Ravinder to apologize to her in the plan. She says that she has to execute her next plan. Meanwhile, Shikha steals locker key from Aman.
Episode ends.
Precap – Ravinder asks Shikha that if she know Harsh. Aman tells Bebe that necklace is missing.
Click to read