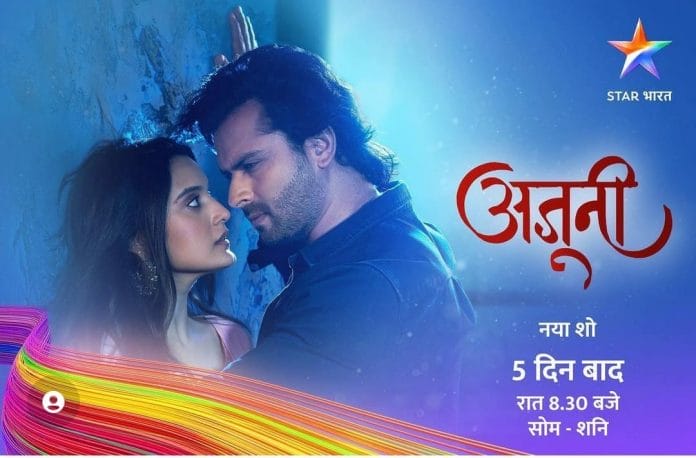 Ajooni 23rd January 2023 Written Update on TellyExpress.com
Episode begins with Shikha sneak into Bebe's room and steals the necklace from the cupboard. She hides seeing Ajooni entering the room. Ajooni gives medicine to Bebe. Bebe asks for blanket so Ajooni takes blanket from the cupboard and covers Bebe and leaves the room. Shikha escapes from there. Next day, Aman asks Ajooni that how long she slept. Ravinder tells her that she slept for two days. He says that he know someone gave bhang to Aman. He asks her that if she is feeling better. Aman nods at him. He asks her to make tea for him. She goes inside. He asks Ajooni to take extra care of Aman because Aman is naive.
On the other hand, Shikha sells the necklace to the goldsmith. She asks him to make duplicate necklace of that design. She gives the money to her mother and asks her to pay the debt. She reveals that she prepared duplicate key for locker.
Ravinder tells Rajveer to meet Sethi at Delhi. Neeru comes there. Rajveer and Ajooni takes her blessings. Neeru informs them that Meher passed in the exams. She gives sweets to everyone. Rajveer tells her that Subhash must be so happy. Ravinder asks about Meher's future plans. Neeru informs him that Meher want to do Masters in London. He asks Ajooni to give food to Neeru. Ajooni takes Neeru from there.
Shikha opens the door hearing door bell ringing sound. She gets shocked seeing Harsh there and she asks him that what is he doing there. Ravinder tells her that he called Harsh. Harsh takes Ravinder's blessings. Ravinder asks Shikha that if she know Harsh. Shikha lies to him that she don't know Harsh. He asks her that then why she asked like that. She tells him that Harsh face looked familiar that's why. Ravinder takes Harsh inside. He tells Baggas that Harsh fought against goons to save Dolly. He says that Harsh even saved him when a goon tried to stab him from behind. Bebe blesses Harsh. Harsh tells Ravinder that it was his responsibility.
Ravinder learns that Harsh is searching a job. He tells Rajveer to give job to Harsh in their factory. Rajveer takes Harsh from there. Harman asks Ravinder that how can he believe Harsh easily. Ravinder tells her that Dolly is fine now due to Harsh. Shikha tells Ravinder that Harman is right. Ravinder asks her to not say anything and leaves from there.
Bebe tells Harman to take the necklace out to polish. Harman goes to get key from Aman. Shikha gets scared hearing her. She meets goldsmith outside the house and gets duplicate necklace from him. Aman tells Bebe that necklace is missing. Bebe slaps her. She says that she want that necklace at any cost. Harman tells her that she will search the necklace in her locker.
Episode ends.
Precap – Shikha puts the necklace in Neeru's bag. Harman finds the necklace in Neeru's bag.
Click to read