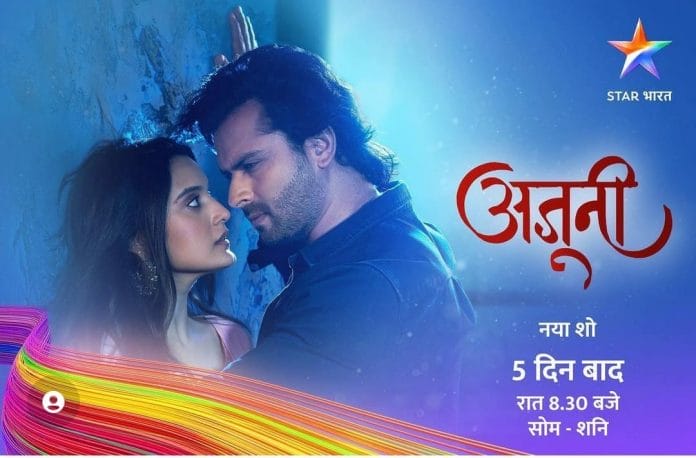 Ajooni 24th January 2023 Written Update on TellyExpress.com
Episode begins with Shikha tells Neeru that it's a good decision to study in London. She puts the necklace in Neeru's bag without her knowledge. Ajooni comes there and gets surprised seeing Shikha with Neeru. Chamko tells them that Bebe called everyone to the hall. Ravinder scolds Bagga ladies for losing the necklace. Harman tells him that Aman had the locker key. Aman tells Ravinder that she was sleeping. Shikha takes Aman's side.
Ravinder asks her that why she is interfering in their family matter. He asks her that if she stole the necklace. She tells him that she was innocent yesterday and today too. She asks him to search in her room. She says that she is ready to accept the punishment if they found the necklace there then. Baggas goes to Shikha's room. Shikha says that she is innocent so she is not afraid. She tells them that they suspect her always. They don't find the necklace there. She says that now they should search in Ajooni's room. They don't find the necklace in Ajooni's room too.
Ravinder tells Bebe that, that necklace is not normal one but precious one. He asks her to find the necklace before he returns and leaves the house. Harman tells Bebe that she think someone did black magic on their house. Shikha tells her that they did not search in Neeru's bag yet. Ajooni scolds her for suspecting Neeru. Bebe says that Neeru is guest so Shikha is right. Ajooni tells her that Neeru is relative. Bebe says that Neeru is present since morning so they should search in Neeru's bag.
Ajooni tells her that Neeru faced so much insult in this house already so she won't let her mother get insulted again. Bebe asks her that why the latter is against it if Neeru is innocent then. Neeru says that they can search in her bag and she don't have any problem with it. Harman finds the necklace in Neeru's bag which shocks everyone. Bebe slaps Ajooni for betraying them. Ajooni defends herself. Neeru says that she did not steal the necklace. Bebe scolds Neeru for supporting Ajooni.
Shikha says that Ravinder wanted to color the theif face. Bebe orders Chamko to bring the color. Chamko brings the color and she gives it to Bebe. Bebe applies color on Ajooni's face and Neeru's face. Shikha smiles seeing that. Dolly records everything. After some time, Shikha tells her mother that everything went well. Someone leaves from there after hearing Shikha. Dolly plans to upload the video.
Later, Ajooni blames herself for Neeru's insult. She tells everything to her family and cries. Meher and Beeji consoles Neeru.
Episode ends.
Precap – Rajveer asks Aman about Ajooni. Bebe tells him that Ajooni run away from the house. Ajooni tells her that she will make sure that the latter realises her mistake.
Click to read