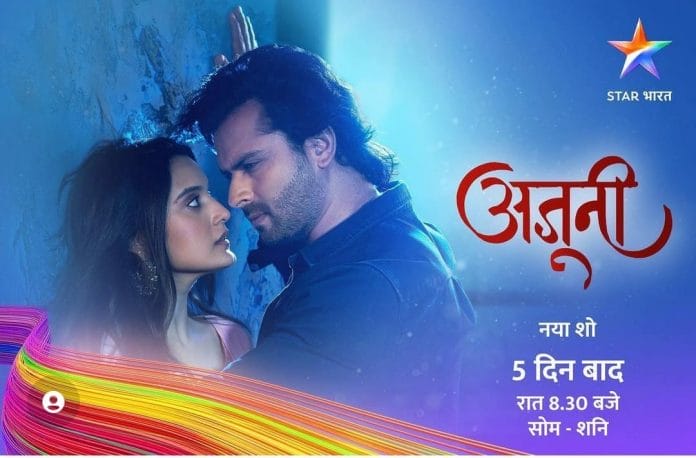 Ajooni 25th January 2023 Written Update on TellyExpress.com
Episode begins with Rajveer scolds Bebe for her mistake. Bebe tells him that Ajooni and Neeru stole the necklace. He tells her that he trust them. He asks Aman about Ajooni. Aman tells him that Ajooni went to her house with Neeru. Bebe tells Rajveer that Ajooni run away from the house because she is thief. Ajooni comes there and tells Bebe that she will make sure the latter realise her mistake. She says that Babe has to apologize to Neeru by washing her feet with milk and goes inside.
On the other hand, Beeji consoles Neeru. Subhash asks Neeru to stop crying. He tells her that Ajooni will prove her innocence. He switch on TV and gets shocked seeing the breaking news.
Meanwhile, Ravinder also watches the breaking news. He asks Harsh to find out who gave this footage to news station. He reaches Bagga house and asks Harman that what happened with Ajooni and Neeru. Harman tells him that they found the necklace in Neeru's bag. He tauntingly praises the idea of punishment. She lies to him that she came up with that idea. He slaps her which shocks everyone. He tells her that his image is getting ruined due to her. He shows the video to everyone. She tells him that she did not do alone and Bebe insulted Ajooni and Neeru. He scolds Bebe too.
Harsh calls Ravinder and tells him that Shikha sent that footage to news station and disconnects the call. Ravinder throws his phone in anger. Shikha returns from her house. Ravinder slaps her. He shows the video to her and accuses her that she sent the video to news station. She tells him that she did nothing. Harman tells Ravinder that Shikha is behind this that's why Shikha is not visible in this video. Ravinder orders Shikha to leave the house. Shikha tells him that he will pay for this and she will take revenge on him and leaves the house.
Ravinder tells Bebe that this is real face of Shikha. Bebe tells him to throw Ajooni also out of the house because Ajooni stole the necklace. Rajveer defends Ajooni. He tells Ravinder that there is a possibility that Shikha is behind all this. Bebe tells him that he is saying like this to save Ajooni. Ravinder tells her that if Shikha can give the footage to news station then she can stole the necklace too. He says that he won't agree that Neeru stole the necklace. He tells Bebe that she is elder of this family that's not mean she is right always. Sandhya and few more ladies comes there. Ravinder asks them that who are they. Sandhya tells him that they are women welfare organization.
Episode ends.
Precap – Sandhya tells Ravinder that they will stop the investigation if Harman and Bebe apologized to Neeru then. Later, Ravinder washes Neeru's feet with milk and apologizes to her.
Click to read