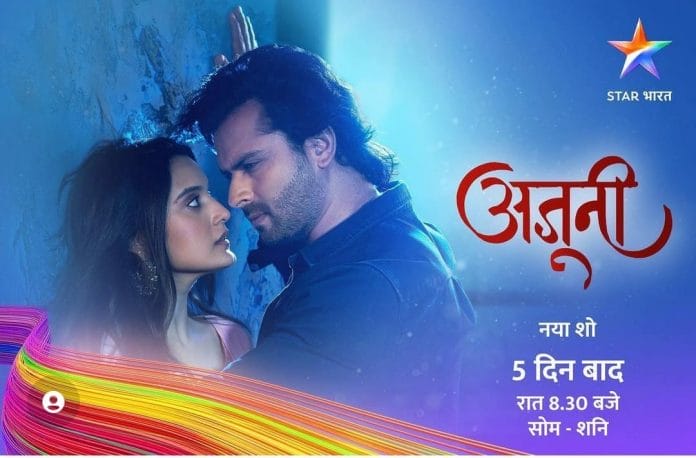 Ajooni 25th November 2022 Written Update on TellyExpress.com
Episode begins with Rajveer reveals that Shikha called Karuna. He says that he heard when Shikha was telling this to her father. Shikha says that Rajveer heard wrong. He pushes her and asks her to leave the house. Ravinder comes there and tells him that everyone is wrong for him except Ajooni. He says that Ajooni destroyed his family and his dream. He informs him that the latter's minister ticket has been cancelled. He asks Ajooni that if she is happy now. Rajveer asks him that why the latter is scolding Ajooni unnecessarily.
Ravinder says that it's time for action. He loads one bullet in the gun and points a gun at Ajooni. He tells her that this time it's real bullet. Rajveer comes in between them. Ravinder tells him that he know the latter will come like this to protect Ajooni. He gives another gun to him. He asks him to shoot him to save Ajooni. He tells him to choose in between his father and his wife. Bebe asks Ravinder to stop all this. Ravinder reminds her that how Rajveer threatened to kill him to marry Ajooni.
Rajveer points a gun at Ravinder. Ravinder tells him that he knew the latter will choose Ajooni. Rajveer tells him to throw the gun. But Ravinder refuses. Rajveer threatens to kill himself if Ravinder shoot Ajooni then. Ravinder tells him that he won't back off today. Everyone gets shocked hearing bullet sound. Bebe makes them shoot on air.
Mangi Ram comes there and tells Ravinder that Harvinder is alive. Police brings Harvinder there. Baggas gets happy seeing Harvinder. Everyone hugs Harvinder one by one. Harman tells Harvinder that she is glad he returned alive. Bebe thanks God.
Ravinder asks Police inspector that how they found Harvinder. Police inspector tells him that there is a village near the cliff and village people rescued Harvinder admitted him in the clinic. He says that Harvinder lost his memory due to accident.
Harman tells Harvinder that she is his mother. She asks him to recognize her. Ravinder tells her that Harvinder needs rest. Bagga ladies takes Harvinder inside. Ravinder asks Police inspector that who is behind the accident. Police inspector tells him that they have to wait until Harvinder recovers and leaves from there. Mangi Ram tells Ravinder that he think Shikha's family using Shikha for money. Rajveer says that he also suspect Shikha's family.
Harman asks Harvinder that why he is not saying anything. Shikha tells Harvinder that she is pregnant with his child. Aman comes there and tells Harvinder that she is his wife. She asks him to see their marriage photo. Harvinder remains silent. Mangi Ram tells them that Ravinder called them. Bebe and Harman leaves the room.
Episode ends.
Precap – Karuna claims that she got complaint that domestic violence happening against Baggas ladies. Ajooni accepts that she gave complaint. Bebe asks Rajveer to stop Ajooni. Rajveer says that Ajooni is right.
Click to read