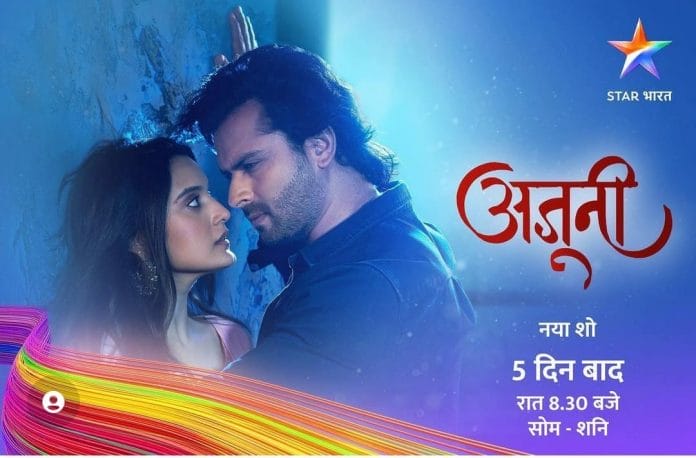 Ajooni 26th January 2023 Written Update on TellyExpress.com
Episode begins with Sandhya tells Ravinder that Karuna is her assistant. She says that her organization people gave so many chances to Baggas but they are not changing. Ravinder apologizes to her. She tells him that last time they gave last chance to him so this time he will receive notice from court. He tells her that Bagga ladies become mad. She tells him that she will stop the investigation if him, Harman and Bebe apologized to Neeru then. Ajooni says that Neeru is in trauma due to all this. Bebe scolds Sandhya. Ravinder drags Bebe aside and asks her to calm down. He apologizes to Sandhya on behalf of Bebe. He takes everyone to Ajooni's house. Dolly stays in Bagga house.
On the other hand, Meher tells Subhash that Neeru did not eat anything. Subhash gets shocked seeing Baggas there. He asks Ajooni that what is all this. Rajveer tells him that they came to apologize to Neeru. Ajooni tells him that Neeru can come out of trauma only if she receives apology. Meher tells them that Neeru locked herself in the room. Ajooni asks Neeru to open the door. Rajveer breaks the door. Neeru cries saying that she is thief so she don't have any rights to live. Ajooni tells her that Ravinder came to apologize.
Meanwhile, Dolly praises her plan. She tells Ravinder's photo she will keep creating problems for him after all she is his daughter.
Ajooni brings Neeru to the hall. Ravinder blames Bebe and Harman for Neeru's condition. He apologizes to Neeru. He asks Meher to bring milk. Harman tells Neeru that she made mistake by accusing her and apologizes to her. Ravinder wash Neeru's legs. Media reporters clicks photos. Ravinder tells Bebe to apologize to Neeru. Bebe apologizes to Neeru. Ravinder apologizes to media reporters and women welfare organization ladies. He accepts that Bagga ladies did wrong with Neeru. He says that they are humans that's why they make mistakes. He adds that its necessary to realise their mistake.
He tells them that his family also respect women and everyone should respect women. Everyone claps after hearing Ravinder's speech. Ravinder apologizes to Neeru once again. Sandhya hope that she won't witness something like this again. He tells her that, that won't happen. Media reporters and women welfare organization ladies leaves from there. Ajooni's family goes inside.
Bebe asks Ravinder that why he did like that in front of media reporters. Ravinder tells her that he will get positive reaction from public and it's his politics.
Episode ends.
Precap – Income tax officers raid Bagga house claiming that Baggas has black money. Ravinder says that someone from house only gave information to Income tax officers. Dolly tells him that Shikha must be behind this. He tells her that if that's true then he will kill Shikha.
Click to read