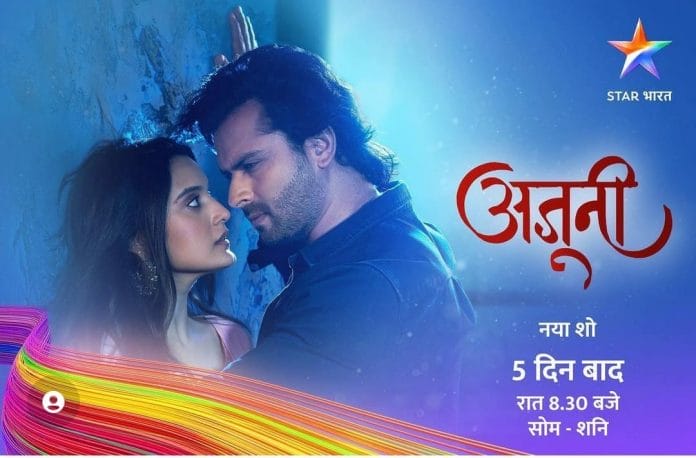 Ajooni 28th October 2022 Written Update on TellyExpress.com
Episode begins with Dolly cries saying that no one cares about her. Harman asks her that what happened. Dolly asks her to go to Ajooni. Harman scolds her. She asks her that if the latter poured soap water on the staircase. Dolly reveals that Harvinder told her to do that. She informs Harvinder's plan to her. Harman thinks that Harvinder changed the arrow not party member.
On the other hand, Harvinder tells Shikha that his time is not good. He says that he would have died when trying to kill Rajveer. He tells her that Ravinder keep insulting him. Shikha asks him to calm down. She offers alcohol to him. She asks him to not take tension because she will be with him always. She asks him that if he will marry her. He tells her that he will do everything which she tells him to do. She hugs him and she signals at her mother.
Aman asks Harman that when they can give water to Ajooni. She notices that Ajooni has fever and she informs about it to Harman. Rajveer comes there and notices Ajooni's fever. He asks them that if they called the doctor. Ajooni regains her consciousness. He asks her that if she is fine. She tells him that she fainted because she was doing lot of work. He tells her that her face don't say that she is fine. She tells him that she will be fine after taking rest. He asks her that if she took her medicine. She recalls that how Guru Maharaj said that she can't drink water. She lies to him that she already had medicine. She says that she is not kid and she can take care of herself. He leaves from there without saying anything. Harman tells Ajooni that she is glad the latter did not tell about puja to Rajveer. She asks Aman to give sugar water to Ajooni after an hour and leaves from there.
Rajveer wonders that why Ajooni got angry. Dolly tells him that Ajooni don't love him. She lists out their differences. He asks her to not come in between them. She is about to tell him about Guru Maharaj's words but Harman stops her. Harman asks Rajveer to not worry about Ajooni. She takes Dolly from there. She twists her ear and scolds her. She says that she is ashamed to call her as daughter. Dolly thinks that she won't let anyone live peacefully if they sent her to Ajooni's house then.
Harman calls Harvinder and asks him to come to house. Harvinder leaves from Shikha's room. Meanwhile, Aman gives sugar water to Ajooni. She praises her determination. Ajooni tells her that she is feeling bad that she yelled at Rajveer. Rajveer hears that. He tells her that he can tolerate her anger for her. She smiles at him. Aman asks about rally. Rajveer says that rally went really well. He thanks Ajooni.
Bebe praises Rajveer. Harvinder gets angry hearing her. He is about to break alcohol bottle at Rajveer's head. But Bebe stops him and slaps him.
Episode ends.
Precap – Rajveer offers sweet to Ajooni. Ajooni pushes him and asks him to stay away from her. He asks her that what happened to her. She tells him that he won't understand. He asks her to make him understand.
Click to read