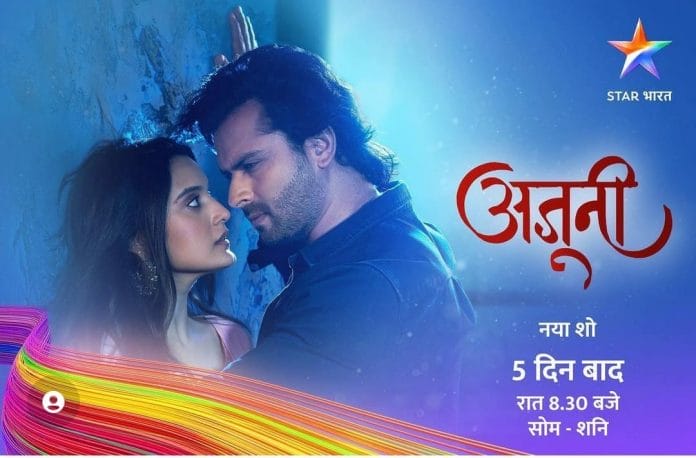 Ajooni 3rd January 2023 Written Update on TellyExpress.com
Episode begins with Harman informs Ravinder and Bebe that she spotted Aman with Meher in the market and she is sure Aman is in Ajooni's house. Bebe says that Ajooni and Rajveer left for Ajooni's house only. Ravinder tells Harman that he will punish her if she turned out to be wrong then. In Ajooni's house, everyone eats. Meher gets happy after learning about what happened with Shikha. Aman goes inside to bring sweets.
Ravinder, Bebe and Harman comes there. Rajveer asks his father about his sudden visit. Bebe says that they are there to see Aman. Harman claims that she spotted Aman with Meher in the market. Bebe asks Rajveer to call Aman. Rajveer tells them that they misunderstood. Harman says that she is sure Aman is there and she won't leave without searching the house. Rajveer asks his father that why Aman will come there. Ravinder tells him that it's necessary to find Aman due to Durga's pressure.
Bebe starts searching the rooms. Harman searches the kitchen. She asks Aman to come out. Ajooni tells her that Aman is not there. Harman tells her that she know Aman is there and leaves the kitchen. Bharat and Rajveer sees Durga with Aman outside the house. Ravinder goes out but finds no one there. Harman and Bebe says that they did not find Aman. Rajveer says that he already said that Aman won't be there.
Ravinder apologizes to Neeru. Neeru asks him to have snacks. He tells her that he don't want to trouble them. Bua tells him that he troubles them always and today he crossed all the limits. She asks him to have sweets before leaving. Ravinder glares Harman and says that he has to take Harman to hospital because her eye sight become weak. And Baggas leaves from there.
Ajooni asks Rajveer that where is Aman. Bharat brings Durga and Aman. Durga recalls that how she took Aman from the kitchen. Bharat says that he brought them inside through back door. Bua praises Durga for saving Aman from Baggas. Durga tells Aman that the latter need to be careful and asks how can she roam freely outside. She says that they have to stay more alert because Harman saw Aman. She adds that she is glad she overheard Baggas conversation. She recalls that how she heard when Harman told Ravinder that she spotted Aman with Meher in the market. Aman thanks Durga for saving her. Durga tells her that she was worried about her but now she is glad that Aman has many people to take care of her. Meher says that Ravinder looked angry and he may do something with Harman.
Episode ends.
Precap – Ravinder tells Harman that he faced insult due to her. Ajooni tells Rajveer that Harvinder need to suffer more to realise his mistake. Rajveer tells her that Harvinder won't forget tonight.
Click to read