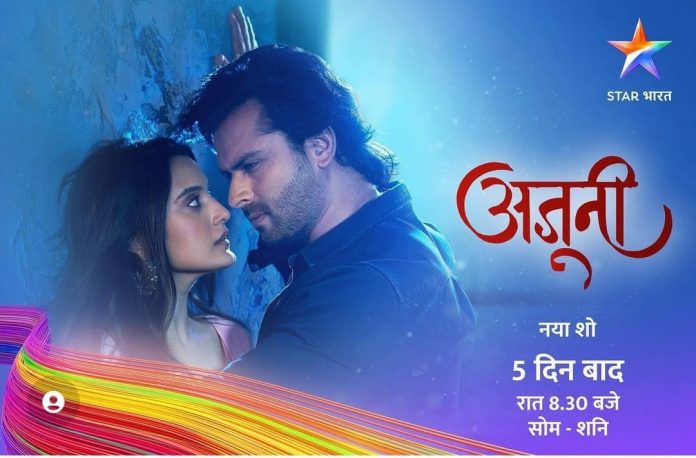 Ajooni 5th August 2022 Written Update on TellyExpress.com
Episode begins with Avinash and his mother searches Geet. They gets worried about Geet. Rajveer comes there. Avinash asks what the latter doing there. Rajveer says that they looks tensed. He talks about Geet. They realises that Rajveer is behind Geet's disappearance. Avinash's mother asks Rajveer that where is Geet.
He tells her that criminals are very dangerous nowadays. Avinash asks Rajveer that where is Geet. Rajveer's friend brings Geet's bag. Another friend brings Geet. Avinash's mother hugs Geet. Rajveer threatens them to not tell about it to police. He tells Avinash to stay away from Ajooni for his family's sake and leaves from there.
On the other hand, Subhash tells Beeji that he prepared guest list. Bharat and Meher packs gifts for guests. Subhash picks Avinash's call and he gets shocked hearing him. His family asks him that what happened. He informs them that Avinash refused to marry Ajooni. Bharat asks him that why Avinash changed his decision.
Subhash reveals that Rajveer kidnapped Geet. He says that they can't blame Avinash in this. Rajveer and his friends celebrates their happiness. Ajooni's family goes outside. They sees Rajveer's reminder about engagement. After some time, Rajveer's friends tells Rajveer that Ajooni and her family is angry still. Rajveer thinks to do something.
Next day, Meher is about to open the curtains but Subhash stops her. He says that Rajveer and others sitting outside. She tells him that they can't live like this. They hears door knocking sound. Bharat opens the door. Bindu comes there and switches on Television. Rajveer announces his engagement with Ajooni on Television. Everyone gets shocked seeing that. Rajveer invites everyone for his engagement.
Rajveer's sister Dolly watches the advertisement too. She runs downstairs and she collides with Maid and she fights with her. Rajveer's mother comes there and she scolds them. Rajveer's sister in law also comes there. Dolly informs them that Rajveer getting married. She reveals about advertisement. Rajveer's mother says that Rajveer must be joking. Maid says that they should take Rajveer seriously.
Subhash gets calls from relatives. He tells them that Ajooni's engagement won't happen with Rajveer. Subhash's neighbors comes there. They praises Subhash for finding a rich guy for Ajooni. They asks him to not forget them after becoming a part in politics. Subhash throws them out of the house. He cries and he locks himself in the room. Everyone gets shocked seeing that. They asks him to open the door. Bharat breaks the door.
Beeji asks Subhash to not cry. He tells her that he lost and cries hugging her. He says that he lost the respect he earned. He tells Ajooni that he tried his best to fight but he failed. He says that he is no use now. Ajooni asks him to not say like that. She says that they will fight. And it's their turn to answer Rajveer.
She adds that she will expose Rajveer and Ravinder using media. He tells her that that won't be easy because Rajveer's family is powerful. Bindu agrees with him. She says that they can control media. She gives an example of Manjeet. She asks Ajooni to not do something which can ruin everyone's life. Subhash says that they should not do anything against Rajveer.
Episode ends.
Precap – Ajooni and her family tries to leave the city. But Rajveer stops them. He cancels the engagement. He announces that he will marry Ajooni.
Episode begins with Ajooni and Subhash reaches the hospital and they gets worried seeing Avinash. Avinash's mother scolds Ajooni. Avinash asks her why she is blaming Ajooni. She says she knows that Rajveer sent those goons to attack Avinash. He tells her that relatives blaming Doctor is common so Ajooni has nothing to do with his attack.
His father tells him that the patient got discharge long back so Rajveer is behind this attack. He tells Subhash that he supported him till now but not anymore. He says that he can't put his son life at risk for this relationship. Avinash says that he won't change his decision of marrying Ajooni. Subhash tells him that they can talk about it later. He asks him to take care of himself.
Ajooni leaves the room. Rajveer comes there. He says that he did not kill Avinash yet. He tells her that he don't like her meeting Avinash. Subhash comes there. Rajveer takes his blessings. He asks him that what the latter doing there instead of preparing for engagement. Subhash tells him that the latter ruining their life with his joke. Rajveer says that he is really serious about Ajooni. He asks him that what he should do now to prove he is really serious about Ajooni.
Click to read