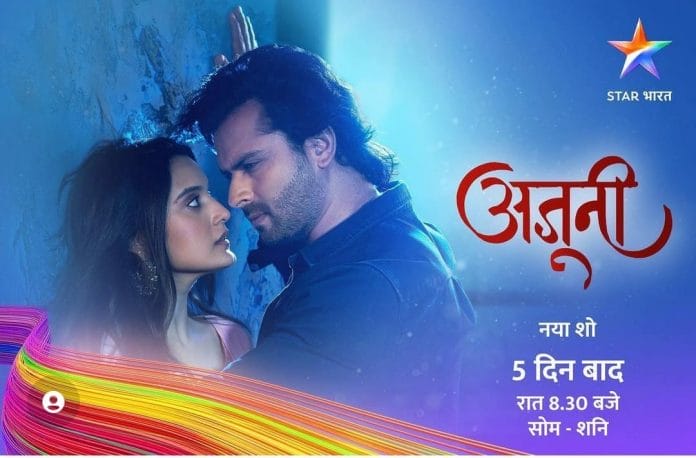 Ajooni 5th January 2023 Written Update on TellyExpress.com
Episode begins with Harsh calls Shikha and tells her that he know Baggas throw her out of the house and they won't take her back. Shikha tells him that she will return to Bagga house for sure and disconnects the call. On the other hand, Ajooni assures Aman that everything will be fine. Aman and Meher wears same design outfit. Rajveer comes there and plays dog barking sound. Harvinder wakes up and gets scared. He picks his call and gets shocked hearing Aman's voice. He sees Aman on the mirror. Aman tells him that she can't live without him and he know that. She says that she will do everything which he did with her and laughs.
He runs from there. She tells him that no one will come to help him and no one will believe him too. She says that she came to take him to her world which is peaceful. Ajooni tells Rajveer that everything is going on as per their plan. Meher walks with candle without showing her face to Harvinder. Aman calls Harvinder from another direction and he goes to her to touch her. He turns around hearing Aman's voice from other side.
Ajooni makes Meher wear the mask. Meher goes to Harvinder and he gets scared seeing her and runs from there. Aman follows him. Harvinder apologizes to her. She tells him that no use of apology now and he has to go with her. He runs from there. Ajooni tells Aman that it's Shikha's turn now.
Meanwhile, Shikha gets scared seeing Harsh. He tries to kill her and it turns out to be her dream. She switch on the light and gets shocked seeing Harvinder sitting there. He asks her that who is Harsh. She tells him that she saw nightmare. He tells her that he is seeing Aman everywhere. She tells him that he became mad. He tells her that even Harman saw Aman with Meher in the market. He claims that he saw Aman's spirit. She tells him that they should check Aman's corpse. She says that if they don't find anything there then Aman is alive.
Later, Harvinder and Shikha goes to the forest to check Aman's corpse. They finds Aman's dress and jewels. Shikha tells Harvinder that animals ate Aman already. They hears anklet noise and goes that way. Rajveer shakes anklet from another side. They hears Aman's voice. Rajveer tells Aman to go. Aman appears before Harvinder and Shikha as spirit.
Episode ends.
Precap – Harvinder accepts his mistakes and he apologizes to Aman. Shikha and Harvinder runs from there to save themselves from Aman. Ravinder sees Aman and asks Rajveer that what is all this. Rajveer tells him that he called him there to reveal everything. He informs him that Harvinder and Shikha left Aman in the forest so animals could eat her.
Click to read