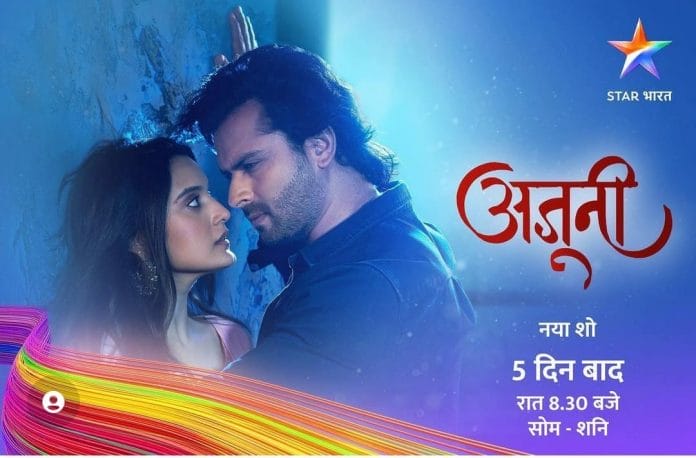 Ajooni 6th January 2023 Written Update on TellyExpress.com
Episode begins with Aman appears before Harvinder and Shikha as spirit. Harvinder and Shikha apologizes to Aman. Aman tells them that she won't forgive them for killing her. Harvinder accepts his mistakes and he apologizes to Aman. Shikha tells Aman that she will make Aman mother of her child. Aman tells her that she want revenge not child. She says that she want husband so she will take Harvinder with her. She tells Shikha that she will send her to hell. Harvinder and Shikha runs from there. Rajveer records everything.
Baggas comes there. Harman says that she was right when she said she saw Aman in the market. Ravinder asks her to stop it. Rajveer tells him that how Harvinder and Shikha left Aman in the forest so animals could eat Aman. Ajooni tells Ravinder that if they did not reach on time then Aman would not be alive now. Rajveer says that he did all the drama to expose Harvinder and Shikha. Ajooni says that Shikha tried to prove Aman as mad. Aman tells Ravinder that Dolly also helped Harvinder and Shikha. She reveals that how she overheard their conversation.
Ajooni recalls that how she and Rajveer found Aman in the forest and untied her. They takes Aman to Ajooni's house. Rajveer reveals everything. Ravinder beat Harvinder up. Shikha tells him that he has to listen her side story too. Bebe says that Shikha is right. Shikha tells Ravinder that all the accusations are wrong and everything is Ajooni's plan. Ravinder asks her that what is she doing in the forest at this time. She lies to him that she got a call from someone and now she realised that Ajooni called her. Ajooni asks her to stop lying. She tells Ravinder to call the Police. Shikha says that she is not afraid of police because she is innocent. She accepts that she tried to prove Aman as mad but she never tried to kill Aman. She says that she can prove that she and Harvinder are innocents.
Rajveer lists out the attacks which happened with Aman and he blames Shikha for everything. Shikha asks Aman that who made her unconscious. Aman says that she did not see anyone's face and she woke up at Ajooni's house. Shikha tells Ravinder that Aman did not see anything. She claims that Ajooni is using Aman. Rajveer says that he has proof against Harvinder and Shikha. He gives the video to Ravinder. Harvinder says that he accepted in fear. Shikha says that Ajooni don't have any proof that she and Harvinder left Aman in the forest.
Mangi Ram comes there and says that he is the witness. He tells Ravinder that he saw everything because the latter asked him to keep an eye on Shikha. Harvinder tells Ravinder that Mangi Ram is lying. Ravinder says that he trust Mangi Ram the most.
Episode ends.
Precap – Ajooni says that Shikha will stay as guest and she won't get any rights as daughter in law.
Click to read