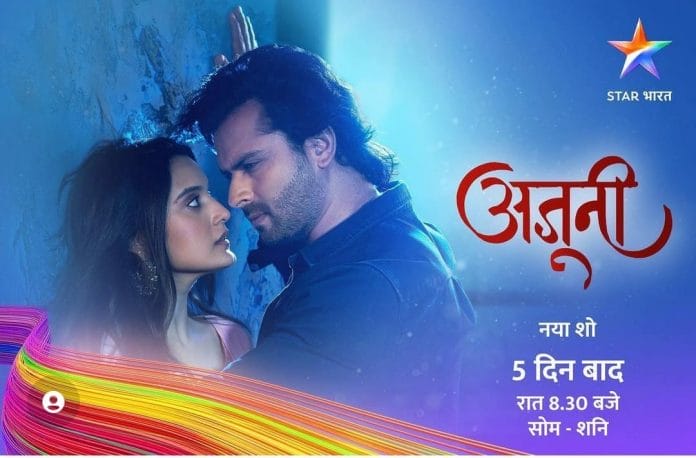 Ajooni 7th January 2023 Written Update on TellyExpress.com
Episode begins with Ravinder says that he forgave Harvinder many times but the latter did not change at all. Mangi Ram asks him to not spare Shikha too. Ravinder tells him that he know Shikha is mastermind. Bebe asks him to not forget that Shikha is pregnant. Ravinder warns her to not interfere. He asks her that what that child will learn from Shikha. He says that he don't want both Shikha and her child. Shikha apologizes to him and says that she did everything for her child and Harvinder. He asks her to stop her drama because he won't spare her no matter what. Bebe asks him to care about their grandchild. He says that he would have killed Shikha if he can then. He tells Ajooni to punish Shikha because it's the latter who exposed Shikha.
Ajooni says that she is against punishment but Shikha deserves punishment for the sin she did. She tells Ravinder that Shikha is pregnant so they will let Shikha stay in the house. But Shikha won't get any rights as daughter in law of Bagga house and she will stay as a guest. Ravinder praises Ajooni and tells her that he is happy with her punishment. He apologizes to Aman for letting her face all this. He gives the locker key to her and asks her to not get scared of anyone because she has his and God's support. He says that he won't spare the person who troubles Aman. He tells Shikha to stay as a guest and not do any drama and goes inside. Harman and Bebe also goes inside. Ajooni tells Shikha that truth wins always.
Next day, Harvinder blames Shikha for everything. Shikha tells him that Aman was lucky that she got escaped. He tells her that everything was their mistake and Ravinder will kill them if they repeat their mistake then. Ravinder says that Harvinder is right and he won't see the latter is his son. He orders Shikha to pack her luggage and go to Chamko's room. Ajooni tells Shikha to return the bangles which Bebe gave her. Shikha returns the bangles and leaves the room. Ravinder tells Harvinder that the latter has to stay in this room with Aman. He makes him wear bangles on Aman's hand and he blesses Aman. He warns Harvinder to not trouble Aman and leaves from there.
Shikha goes to Bebe. Bebe asks her to massage her leg. Shikha tells her that no one understands her value so she will go to her mother house because Ravinder ordered her to stay in Chamko's room. Bebe scolds her for ruining her efforts and tells her to stay in Chamko's room to pay for her wrong deeds.
Harvinder refuses to drink milk and pushes the tray. He tells Aman that she can't take Shikha's place in his life. He reminds her that Shikha is going to become mother to his child. Ajooni comes there.
Episode ends.
Precap – Ajooni does Aman's make over. She says that Harvinder will be impressed for sure. Ravinder asks them that whose idea is this make over.
Click to read