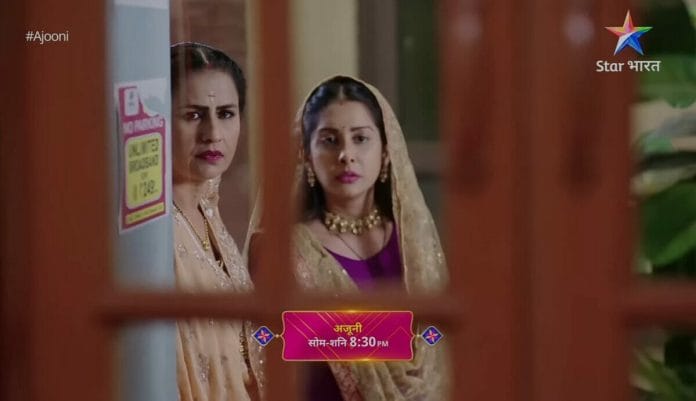 Ajooni Spoilers, Upcoming Story, Latest Gossip , Future Story, Latest News and Upcoming Twist on tellyexpress.com

Shoaib Ibrahim and Ayushi Khurana starrer Ajooni is Star Bharat show. This show is about how, despite coming from a middle-class family with strong family values, Ajooni is compelled to marry the guy she despises the most. Now, Durga appears before Shikha as ghost so it will be intresting to watch that what going to happen in the future episodes.
In the current track, Ravinder blames Harman for the humiliation he faced before Ajooni's family. He punishes her by tying her. He warns Bebe to not release Harman. Other side, Ajooni thanks Durga for coming to help them. Durga says that it's her responsibility to protect Aman. Ajooni suggests Aman's make over. Meher takes responsibility of that.
Durga asks Aman to follow their instructions and leaves for her brother's house. Later, Rajveer tries to untie Harman but Ravinder stops the former. Harman blames Rajveer and Ajooni for her condition. After some time, Harvinder gets scared assuming Harman as Aman. Ravinder suspects Harvinder and beat him up.
Bebe releases Harman. She informs Harvinder about Shikha and asks him to not do anything for now. Harvinder calls Shikha but she disconnects the call. Ajooni tells Rajveer that Harvinder has to suffer more to realise his mistake.
In the upcoming episode, Shikha and Harvinder will reach the forest to check Aman's dead body. Shikha will tell Harvinder that animals would have ate Aman already. Aman will appear before them like ghost.
Will Shikha get scared? Will Harvinder realise his mistake? What Aman will do now?
All these questions will be answered in the upcoming episodes.
To know what will happen next in your favorite show Ajooni, stay tuned to this space.