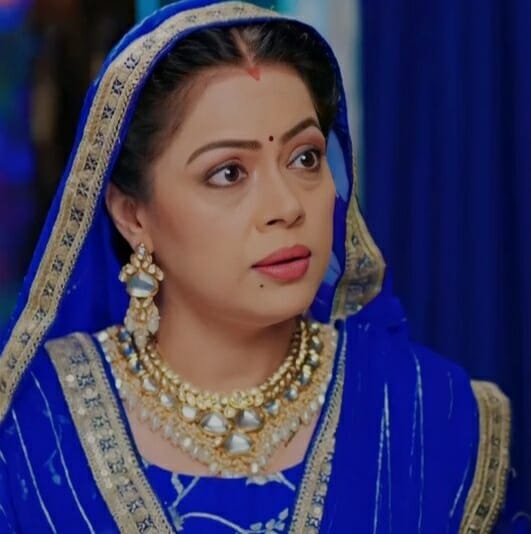 Ajooni Spoilers, Upcoming Story, Latest Gossip , Future Story, Latest News and Upcoming Twist on tellyexpress.com
Shoaib Ibrahim and Ayushi Khurana starrer Ajooni is Star Bharat show. This show is about how, despite coming from a middle-class family with strong family values, Ajooni is compelled to marry the guy she despises the most. Now, Ajooni stays away from Rajveer for his sake so it will be intriguing to watch that what going to happen in the future episodes.
In the current track, Bebe beat Harvinder up for attempting to kill Rajveer. Everyone comes there except Ravinder. Harman asks Bebe that what happened. Bebe reveals everything. Aman apologize to Bebe on behalf of Harvinder. Bebe warns Harvinder and leaves from there. Ajooni wonders that if Guru Maharaj's words will become true.
Later, Harman slaps Harvinder. Dolly says that Harvinder used her to kill Rajveer in arrow matter. Harman scolds Harvinder. Harvinder says that everyone was praising Rajveer only, that's why he did that. He says that he can't even divorce Aman due to Ravinder's political career.
Harman promises to him that she will make sure he gets divorce from Aman. Aman comes there. Harman praises Aman. She says that Aman will get the respect which she deserves. Dolly learns that Ajooni has to eat plain roti. She applies ghee in Ajooni's roti.
Bebe misunderstands Ajooni and scolds her. Rajveer offers sweet to Ajooni. She pushes him and asks him to stay away from her. He gets shocked with her behaviour. Harvinder apologizes to Rajveer and Aman on Harman's behest.
In the upcoming episode, Rajveer will ask Ajooni to not show fake concern. Harman will try to hide the divorce papers. Ravinder will ask her that what is she hiding from him.
Will Harman get Aman's sign on the divorce papers? What will Harman tell to Ravinder now?
All these questions will be answered in the upcoming episodes.
To know what will happen next in your favorite show Ajooni, stay tuned to this space.