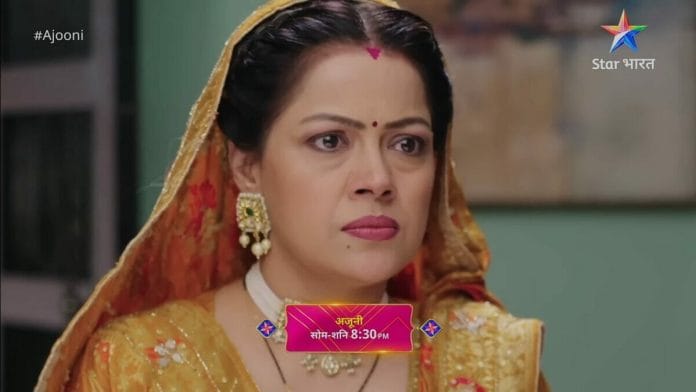 Ajooni Spoilers, Upcoming Story, Latest Gossip , Future Story, Latest News and Upcoming Twist on tellyexpress.com
Shoaib Ibrahim and Ayushi Khurana starrer Ajooni is Star Bharat show. This show is about how, despite coming from a middle-class family with strong family values, Ajooni is compelled to marry the guy she despises the most. Now, Durga helps Aman to escape from Baggas so it will be intresting to watch that what going to happen in the future episodes.
In the current track, in Ajooni's house everyone sits to have food. Aman goes inside to bring sweets. Ravinder enters the house with Harman and Bebe. Harman claims that she saw Aman with Meher in the market. Meher tells her that the latter would have misunderstood.
Baggas searches Aman in the house but does not find her. Ravinder apologizes to Neeru for troubling them. Bua taunts him. He says that Harman's eye sight become weak and he leaves from there. Harman and Bebe follows him. Durga brings Aman there. She reveals that how she overheard Harman's conversation with Ravinder and how she took Aman from the kitchen.
She says that she is glad Aman have many people who cares about her. Meher says that Ravinder looked angry and he may do something with Harman.
In the upcoming episode, Ravinder will tell Harman that he faced insult due to her. Ajooni will tell Rajveer that Harvinder need to suffer more to realise his mistake. Rajveer will tell her that Harvinder won't forget tonight.
Will Harvinder realise his mistake? What is Rajveer's plan? Will Shikha return to Bagga house?
All these questions will be answered in the upcoming episodes.
To know what will happen next in your favorite show Ajooni, stay tuned to this space.