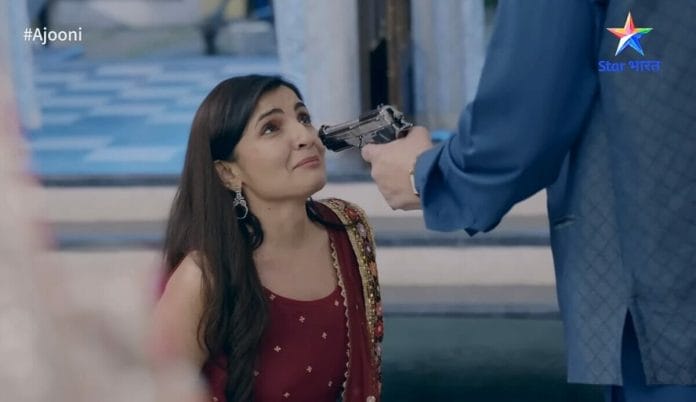 Ajooni Spoilers, Upcoming Story, Latest Gossip , Future Story, Latest News and Upcoming Twist on tellyexpress.com

Shoaib Ibrahim and Ayushi Khurana starrer Ajooni is Star Bharat show. This show is about how, despite coming from a middle-class family with strong family values, Ajooni is compelled to marry the guy she despises the most. Now, Baggas learns about Harvinder's death news so it will be intresting to watch that what going to happen in the future episodes.
In the current track, Aman tells Ajooni that she got punishment for stealing memory card of recorder. Ajooni informs her that Harvinder confessed everything. She consoles her. She asks Rajveer to meet Shikha because Shikha was with Harvinder before the accident. Rajveer and his friends bargs into Shikha's house and learns that Shikha is not in the house.
Rajveer asks his friends to keep an eye on Shikha's house. Bebe informs Ravinder about Harvinder's jeep accident. Aman prays to God for Harvinder's safety. Rajveer tells Baggas that Shikha is missing. Later, Police inspector brings the fully burned dead body.
He shows the things which they found near the dead body. Aman says that these are Harvinder's belongings and she cries. Rajveer friend sees Shikha sneaking into her house and he informs about it to Rajveer. Shikha eats in hurry. Her father asks her that what exactly happened. Rajveer bargs into the house.
In the upcoming episode, Shikha will tell Ravinder it was not an accident but murder. She will say that Ajooni murdered Harvinder. Everyone will get shocked hearing her.
What Ajooni will say now? Will Ravinder believe Shikha?
All these questions will be answered in the upcoming episodes.
To know what will happen next in your favorite show Ajooni, stay tuned to this space.