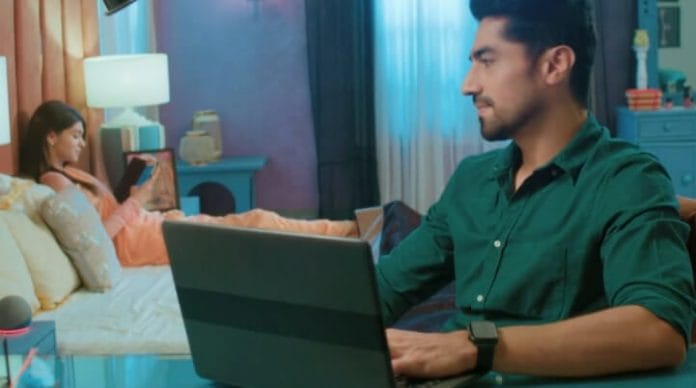 The most awaited track of the longest running show is all set to hit the screen. Abhimanyu, Akshara will consummate their marriage finally. Akshara's pregnancy track next.
In today's episode, . Abhimanyu calls out Manjiri and inform that he brought back Arohi, Neil. Manjiri gets happy. Harsh talks with Anand and says Manjrii succeed in manipulating Abhimanyu.
Manjiri decide to welcome Arohi, Neil. She asks Birlas to gather. Manjiri asks Akshara to perform a ritual for Arohi, Neil. Akhara refuse to perform the ritual with half-heart and asks Manjiri to forgive her. She add she know she wants her to sort her difference with Arohi but it will not be easy. Manjiri still asks Akshara to perform the ritual. Abhimanyu asks Manjiri not to force Akshara. Mahima decide to welcome Arohi, Neil. Manjiri gets happy. Mahima perform a ritual for Arohi, Neil. Akshara leave the place. Arohi smirk seeing Akshara. Abhimanyu goes behind Akshara.
Later, Abhimanyu urges Akshara to listen to him once. Akshara asks Abhimanyu to speak up. Abhimanyu remember his past with Neil, Arohi. Arohi refuse to take Manjiri's blessing and manipulate Neil against Birlas. Neil gets influenced and asks Abhimanyu to go back. Back to reality; Abhimanyu tell to Akshara that he can't leave Neil alone with Arohi as she is manipulating him. He says he can't let Arohi distance Neil from his family. Akshara think she can't support Abhimanyu's decision. Abhimanyu think he respect Akshara's disagreement.
In the upcoming episode, Abhimanyu will console Akshara. He will get close to her. Abhimanyu will get shattered post he will learn about Akshara's accident. Is Mahima or Arohi behind Akshara's accident? Keep watching the show for more interesting drama.