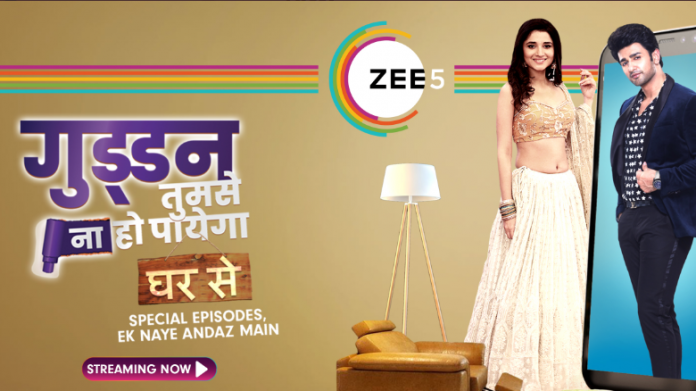 Zee entertainment is unlocking the entertainment after a long lockdown due to the Covid invasion. The channel last night aired the fresh episode of channel's popular show Guddan Tumse Na Ho Paayega.
Before airing the episode the channel has already released that the upcoming episodes will be a special 10 episodes starring Guddan and Akshat. In the show fans will witness so far journey of the protagonist in the flashback.
The artists are shooting from the home but the entertainment is no less. The first episode of this special segment impressed the audiences. Fans poured their love for their favorite couple AJ and Guddan and expressed their wait for the couple was worth it. Check out the episode review below.
Here is what fans wrote for #AKSHAN
Episode was bindass jhakas humare wait karne ka Humare Akshan ne bahut hi amzing gift diya apni superb performance ke saath thank you zee5 hume episode dikhane ke liye woh bhi ek dam freean ek baat aur maanle and save our beloved Akshan #NoNishantNoGtnhp
@Alishah24578774 What a beautiful episode. Our Akshan r love .our Akshan make us to smile in whole episode. Plz save our Akshan we dnt want any leap. Plz dnt replce nishant #NoNishantNoGtnhp
https://twitter.com/Alishah24578774/status/1275014667568545799
It did not look virtual at all All seems so real Akshan was so cute when they said they missed each other so much Like us the fans we too are missing Akshan That's Real acting by NishKa #NoNishantNoGtnhp
https://twitter.com/sharanjit191/status/1275018515414564864
Maja aa gaya no one create this magic dil karta dekhte hi raho superb amazing episode aaj Akshan ko dekhkar dil garden garden ho gaya please save Akshan inke bina show ka charm hi gayab ho jayega #NoNishantNoGtnhp
https://twitter.com/RajaniJain14/status/1275014790885208065
Dil khush kar ditta aapne aaj ke episode se thank u ji aap sab ka iske liye bas ab nishant ko replace karne ka idea drop kar ke hamara dil lelo @ZeeTV #NoNishantNoGtnhp
Meanwhile, show fans are also trending #NoNishantNoGtnhp after actor Nishant Malkani refused to resume the work due to Covid fear.
Stay tuned for more latest updates and news.