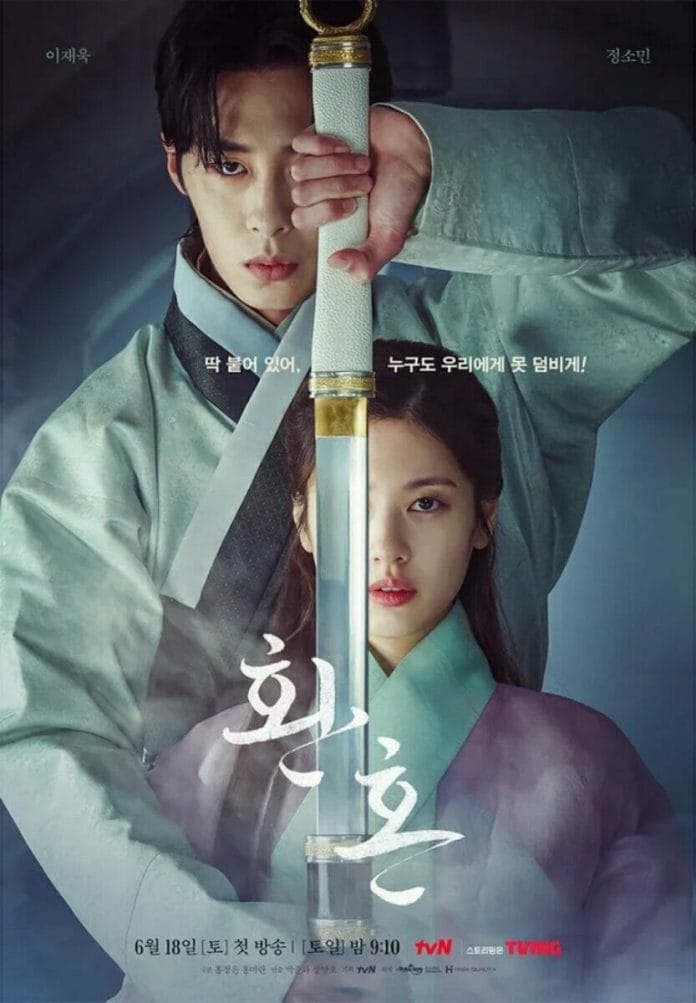 Jang Wook and Mu Doek's love talks continues. Jang Wook reveals Mu Doek's that Master Lee was aware of her being a shifter as well as her identity Naksu shocking her. Jin Ho Kyung angrily came to Master Lee confronting him for taking the Gwigu to the Royal Palace. Gwigu identifies sorceress activity of Cho Yeon. Her father realizes that it found about him sucking the blood from her body using worm performing sorceress. Ho Kyung put Gwigu to death when it was about to pounce on Cho Yeon. Cho Yeon shows the magic paper which she got to impress her love and agrees that she performed sorcerer. Master Lee revealed that Gwigu has finally vanished from its existence and Ho Kyung was about to angrily pounce on Cho Yeon. Dang Gu covers for Cho Yeon with both exposing their love affair in front of everyone.
Jang Wook and Mu Deok returned and Seo Yul told them about Dang Gu's love affair with Cho Yeon who were equally shocked. Ho Kyung wanted to marry off her to daughter to Crown Prince and turned down her daughter's wishes but both Cho Yeon and Dang Gu were not ready to leave each other. Ho Kyung abandoned her daughter while Dang Gu is thrown out of the house by Park Jin. Queen made King believe that Song rim was just challenging them more than consoling them and King fell for her words. Crown Prince was not ready to accept it as he believed that there's more to it. Cho Yeon and Dang Gu were confused about where to go whe and Maidservant Kim came there. They took refugee at her place. Gwigu was put to rest and Seo Yul forbids Mu Deok from touching it raising Jang Wook's suspicion. Cho Yeon was throwing tantrums at Mu Deok who regretted her action and so does Dang Gu. Mu Deok suggested her to go back home.

Park Jin was sure that Queen is a soul shifter and had a word with Master Lee. They both believed of Jang Gang to come upon hearing the news about soul shifters and believed that only he could say them what exactly happened. Jang Gang was seen roaming around the residence in a torn cloth. Crown Prince also had a word with Jin Mu who told about the cons of the King's star returning. Master Lee's servant gives Naksu's sword to Jang Wook and also passed on a td for his life. He gave the sword to Mu Deok and also asked her to stab him first if she ever ran wild.
Park Jin discussed with Kim regarding Cho Yeon and Dang Gu taking shelter with her. He got surprised when she supported their relationship and asked whether she would accept Jang Wook too if the same happened. She immediately noded yes as only happiness mattered. He questioned whether someone makes her heart flutter just like Cho Yeon and she said yes referring to Park Jin but he misunderstood it to be Master Lee and fumed in jealousy. Seo Yul and Jang Wook were making fun of Dang Gu's eviction from the house.
Dang Gu recalled an incident from their childhood where he broke an antique and everyone decided to hide it without his parents noticing him. Seo Yul who couldn't tolerate cheating fell ill as he starved him self and he cleared that they got exposed as they were bad at hiding. Jang Wook realised that Seo Yul is experiencing the same anxiety even now and he joined the pieces and found that he was aware of Mu Doek's secret. Crown Prince noticed that Eunuch Kim was missing after that day and decided to enquire about it in secret.
Park Jin was wondering whether Queen's soul is dead as he was sure that someone else took her place but Soul Lantern is still on which meant she's alive somewhere. It was revealed that Queen's soul resides in the real body of the soul shifter. Jang Wook got a piece of information about Shaman Bong and visited the shaman village. He crossed paths with Crown Prince who was also there to look details about Eunuch Kim's disappearance. They both shared that their suspicions with each other as they went on to find the Shaman. Kim gave an option for Cho Yeong and Dang Gu to separate and never see each other but both turned down the offer but not whole heartedly. Jin Mu got So Yi ready to take her to Ho Kyung.
Jang Wook and Crown Prince met with the Shaman and enquired about Shaman Choi. He revealed that she was worst who got punished by Jang Gang but rumors are to be believed that she's alive. He also told about her having a brother who turns out to be Cho Yeon's father. Jin Mu brings So Yi to Ho Kyung who tests her marks. Mu Deok was also present there to get Cho Yeon's things. She again experienced the same blindness while So Yi proved herself to be Bu Yeon. Jang Wook felt someone following them and got shocked to witness that it was Jang Gang.