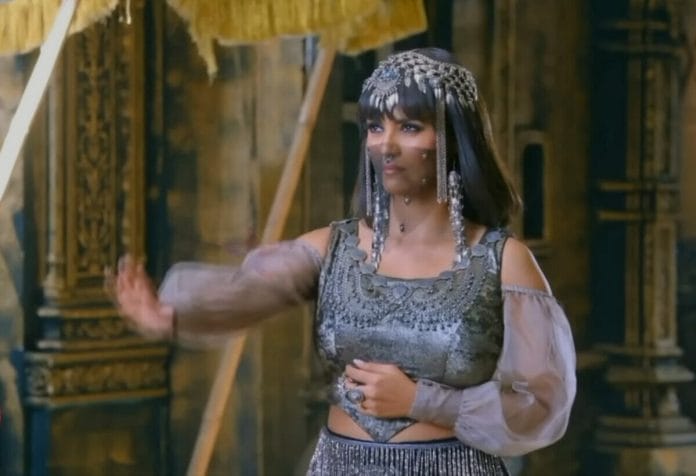 Ali Baba- Dastaan-e- Kabul Spoilers, Upcoming Story, Latest Gossip , Future Story, Latest News and Upcoming Twist on tellyexpress.com

Sab TV show Ali Baba-Dastaan-e-Kabul will witness a shocking twist very soon. The show revolves around Ali and Mariam's struggle to save Kabul from the terror of Iblis and his forty thieves. Simsim is trying her best to wake Iblis up by getting the Talisman gem but will she succeed? that will be interesting to watch.
In previous episode, Simsim searches for the book and finds it at last. There Farishta saves the kids from Abdali's attack. Kids ask him to stop as they missed Ali a lot. Farishta disappears which surprises them. There Simsim turns the pages and Nazia finds her. Simsim turns into shadow and captures Nazia. She then controls Nazia's mind. Abdali complains to Nazia against Khusro and Garifa.
Abdali takes Simmi Jaan out forcibly to spend time with her. Simsim gives them a weird challenge to stand on one leg. Whoever will win, will get her. Khusro, Garifa and Abdali accept the challenge.
Meanwhile Farishta gets the book in Simsim's absence and reads it. Simsim feels everyone in this house is connected to the saviour for sure. She then sees the Farishta too.
In future episode viewers will see, Simsim will chase the Farishta and will apply magic on him. It will be applied on Nafi mistakenly. Nafi will turn into puppet. Poya will get shocked to see that. He will question Simsim about it.
Is the Farishta Ali only?
To know what will happen next in your favourite shows, stay tuned to this space.