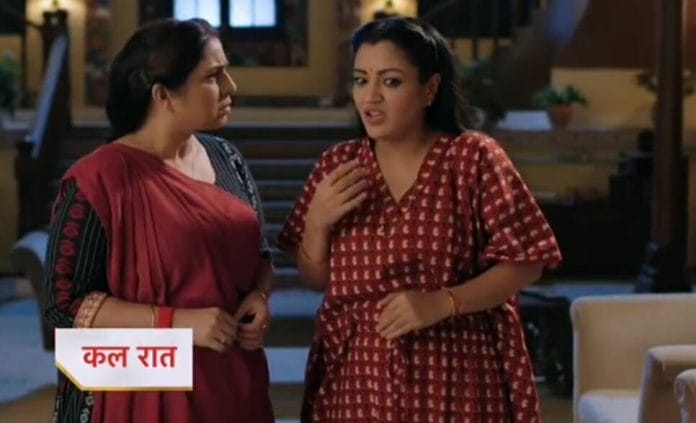 Anandibaa Aur Emily Spoilers, Upcoming Story, Latest Gossip , Future Story, Latest News and Upcoming Twist on tellyexpress.com

Star Plus popular daily soap Anandibaa Aur Emily is unravelling lot many dramas with each passing day. The show is making the viewers curious, with its unpredictable storyline. Previously, Gunjan and Pinky's plan got flopped to separate Emily from Aarav.
Meanwhile, Gunjan found about Emily's fear of ghosts and decided to use it against her. She created paranormal situations to scare Emily and made Anandibaa believe that Moti Baa's spirit is angry with her.
In the current track, Aarav looks after Emily as the latter feels afraid to sleep alone. He arranges a setup on the terrace and engages Emily's mind towards other things, in order to make her relax. They sleeps together with just a pillow in between them.
Here, Gunjan smirks seeing them sleeping peacefully and disturbed them intentionally. At that time Anandibaa comes there while Aarav and Emily runs away from there and Pinky tries to hide from her. Whereas, Gunjan reminds Pinky about their plan and ask her to focus on marrying Aarav.
Jaman talks to Aarav and notices the changes inside him for Emily. He says that the latter is valuing Emily more then his childhood dream, to which Aarav denies but get into thinking about his feelings.
Ahead, Pinky scares Emily and Anandibaa. Gunjan keeps manipulating Anandibaa against Emily and makes her believe that Moti Baa is angry with her for marrying Aarav and Emily.
Anandibaa takes a shocking decision and ask Aarav and Emily to leave the house. The latter gets happy to go to America but Emily becomes sad and decides to clarify Anandibaa's misunderstanding. She proclaims to convince Anandibaa as well as Moti Baa.
Further, Lord Krishan gives motivation to Emily while she proclaims to prove herself. Whereas, Gunjan gets afraid thinking about Emily's idea to convince Anandibaa and decides to keep an eye on her.
Now in the upcoming episode, Emily will insist Anandibaa to give her a chance to win Moti Baa's heart. She will promise to convince her, while the latter gets speechless. Emily will bring soundtrack and dresses herself as a dancer.
She will start performing in front of Moti Baa's portrait, while Aarav will become shocked. Whereas, Anandibaa and Gunjan will keep staring at the latter being stunned.
Will Emily be able to convince Anandibaa?
Will Gunjan gets successful in her ploy?
It would be interesting to see what happens next on the show.
Stay tuned with us for more news, Spoilers and written updates of Anandibaa Aur Emily.