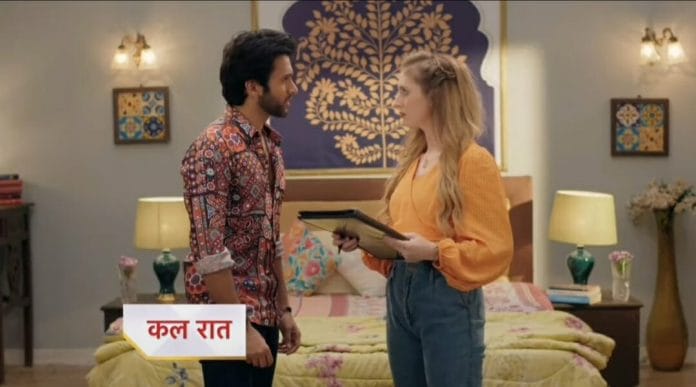 Anandibaa Aur Emily Spoilers, Upcoming Story, Latest Gossip , Future Story, Latest News and Upcoming Twist on tellyexpress.com

Star Plus popular daily soap Anandibaa Aur Emily is unravelling lot many dramas with each passing day. The show is making the viewers curious, with its unpredictable storyline. Previously, Aarav and Emily ployed against Gunjan and Pinky.
The latter spiked Aarav's food to steal his money, while he asked the family members to dip their hands into a solution to expose the culprit. Gunjan and Pinky got scared but the latter somehow confessed her crimes. Anandibaa got furious at Pinky and throws her out of the house.
In the current track, Riddhi plans to leave from Gondal stating that Aarav and Emily doesn't need her help anymore. Whereas, Aarav stops her and tells that they have to expose Gunjan also. He decides to continue their plan to fake a marriage with Riddhi.
Here, Payal gives the contract for the marriage prepared by Mridula while Aarav and Emily gets shocked hearing about it's clause. Riddhi denies to sign it while Aarav feels bad for her stating that she will think they don't trust her.
Gunjan talks to Pinky and tries to console her but the latter shows her anger towards Gunjan and leaves the Sanghanis house. She proclaims that she dreamed about marrying Aarav but everything got flopped.
Ahead, Gunjan sees Aarav and Emily and clicks their picture. She threatens to show it to Anandibaa and goes back to her house. She instigates Anandibaa against Aarav and Emily after showing the picture while Aarav makes a plan to save himself.
Aarav also reaches his house while Anandibaa gets furious at him and confronts about his whereabouts. He says that the picture is old and shows his shirt that he is wearing a different one. Gunjan tries her best to prove herself but gets unsuccessful.
Later, Riddhi comes inside Sanghanis house and Aarav lies that he married her. Anandibaa takes her out and then welcomes her properly as her daughter-in-law. She apologises to Riddhi for doubting her and gets happy with Aarav's decision while the latter proclaims to bring Emily back as his real wife.
Now in the upcoming episode, Gunjan will confront Riddhi and says that she knows about Aarav and Riddhi's contract marriage. She will instigate the latter against Aarav and Emily and proclaims that they will betray her. She will ask Riddhi to take advantage of the situation and teach Aarav and Emily a lesson. She will forward her hand and ask Riddhi to join hands with her against Aarav and Emily, while the latter will keep staring at Gunjan.
Will Riddhi gets manipulated by Gunjan?
Will Aarav and Emily gets successful?
It would be interesting to see what happens next on the show.
Stay tuned with us for more news, Spoilers and written updates of Anandibaa Aur Emily.