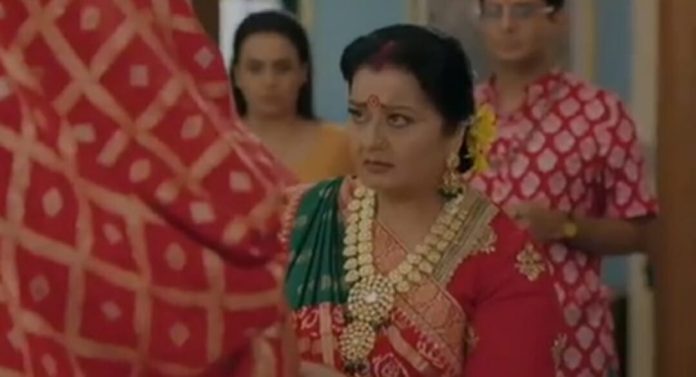 Anandibaa Aur Emily  Spoilers, Upcoming Story, Latest Gossip , Future Story, Latest News and Upcoming Twist on tellyexpress.com

Star Plus popular daily soap Anandibaa Aur Emily is grabbing the attention of the audiences. Viewers are loving the track, whereas the twists in the story is keeping them hooked to their television screens.
Previously, Jaibala visited Sanghani's house after Gunjan informed her about Aarav's marriage. The latter gets adamant to expose Emily in front of Jaibala in order to break her and Aarav's marriage. Meanwhile, she also gained Anandibaa's trust by faking her behaviour in front of her.
In the current track, Gunjan makes a plan to expose Emily in front of Jaibala and explains about it to Pinky. She handovers the control to her sister and ask to start the plan on her signal. Whereas, the latter assures Gunjan and dreams about marrying Aarav.
Here, Emily shares her worry about ruining everything as she couldn't able to see anything after wearing the veil, as it covers her eyes and face. Whereas, Aarav takes a stand to help Emily and assures her that he will make sure she serves perfectly to Jaibala.
Aarav gives earpods to Emily and connects it to his. He keeps instructing her, while she starts serving Jaibala. The latter gets impressed with Emily and compliments her. Gunjan gets irked and signals Pinky ti start their plan.
Ahead, Aagya comes in front of Aarav and shares his problem. He becomes frustrated while Aarav takes his phone to help him. But, Emily mistakenly thinks Aarav's instructions was for her and spoils Jaibala's plate.
Jaibala's confronts Anandibaa while the latter takes Gunjan's help to cover up. She then praises Gunjan for her mind, while Aarav helps Emily to solve the problem. Pinky starts Gunjan's plan but couldn't able to complete it. The latter gets frustrated with her sister and takes the charge on her hands.
Later, Jaibala decides to leave the house and takes her luggage. She compliments Emily, while Anandibaa gets relieved.
Meanwhile, Gunjan starts the fans in front of Emily and her face gets uncovered. Anandibaa apologises to Jaibala for hiding the truth but the latter couldn't able to see Emily's face.
Anandibaa gets relieved and sends Jaibala away from the house, but Gunjan smirks as she steals Jaibala's ticket and determines to expose Emily in front of her.
Now in the upcoming episode, Gunjan will ask Emily to go inside her room as the ritual gets completed and then holds her veil to uncover her face in front of Jaibala.
The latter will get shocked seeing Emily and taunts Anandibaa about it. She will remind her about the past situation, when she made Jaibala break her daughter's marriage and ask Anandibaa to do the same.
She will proclaim that it's Anandibaa's test to choose in between her authorities or Aarav's marriage, while Anandibaa will get shocked and becomes nervous to take a decision.
Will Anandibaa breaks Aarav's marriage with Emily?
Will Emily be able to impress Jaibala?
It would be interesting to see what happens next on the show.
Stay tuned with us for more news, Spoilers and written updates of Anandibaa Aur Emily.