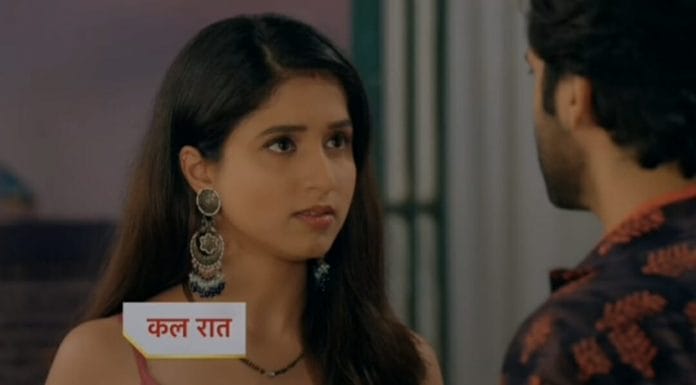 Anandibaa Aur Emily Spoilers, Upcoming Story, Latest Gossip , Future Story, Latest News and Upcoming Twist on tellyexpress.com

Star Plus popular daily soap Anandibaa Aur Emily is unravelling lot many dramas with each passing day. The show is making the viewers curious, with its unpredictable storyline. Previously, Aarav got successful in exposing Pinky but decided to continue their plan to fake his marriage with Riddhi, in order to reveal Gunjan's truth in front of Anandibaa.
In the current track, Payal and Jaman investigates about Riddhi and finds about her lies. They gets suspicious about her and calls Emily to notify it. The latter tells them about Aarav and Riddhi's fake marriage while Jaman and Payal decides to find proofs against Riddhi.
Here, Anandibaa happily performs post marriage rituals of Riddhi and shows her excitement to welcome the latter as her daughter-in-law. Whereas, Aarav says that he can do anything for his mother. At that time Gunjan fakes her sweetness and happily accepts Riddhi.
Aarav senses Gunjan's reality while the latter talks to Pinky and tries to console her sister. Meanwhile, Emily misses Aarav and shares her feelings with Jaman and Payal. The latter decides to bring Aarav to meet Emily for her birthday.
Ahead, Jaman and Aarav gets into a conversation and the latter tells Aarav about Riddhi's truth. Aarav denies to believe it and talks about his contract marriage, while Gunjan hears it and gets stunned. She reveals about it to Pinky and assures to being her back into Sanghanis house.
Aarav decides to surprise Emily on her birthday and tells Riddhi about going to Emily's house. She tries to stop him but he leaves from there. Emily gets emotional seeing the surprise while they spends some quality time together.
Later, Gunjan confronts Riddhi and ask about Aarav's whereabouts. She then reveals that she knows about their contract marriage and instigates her against Emily. She ask the latter to join hands with her and proclaims that she can get a lot of money by being a Sanghanis daughter-in-law.
Now in the upcoming episode, Aarav will confront Riddhi and proclaims that he only loves Emily. He will say that Emily understands the real meaning of love, while Riddhi will state that she loves him prior then Emily. Aarav will tell that Emily knows love is not about getting but it's also about sacrificing.
He will state that Riddhi won't understand it, to which she will ask Aarav to tell Emily to leave him. She will proclaim that she won't let anyone come in between her and Aarav, while he will glare at her.
Will Aarav be able to get rid of Riddhi?
Will Aarav be able to fulfill his promise to Emily?
It would be interesting to see what happens next on the show.
Stay tuned with us for more news, Spoilers and written updates of Anandibaa Aur Emily.