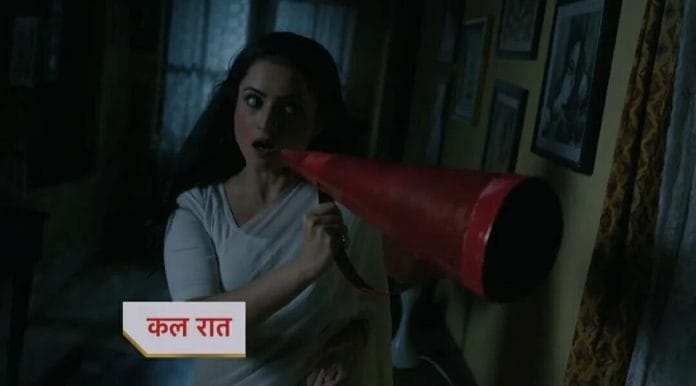 Anandibaa Aur Emily Spoilers, Upcoming Story, Latest Gossip , Future Story, Latest News and Upcoming Twist on tellyexpress.com
Star Plus popular daily soap Anandibaa Aur Emily is grabbing the attention of the audiences. Viewers are loving the track, whereas the twists in the story is keeping them hooked to their television screens. Previously, Gunjan tried to separate Emily and Aarav by creating misunderstandings in between them.
She found about Aarav's intentions and injected truth serum inside him to record his confession. She showed it to Emily while the latter gets shocked and decided to leave the house, but at that time Emily saw the extended version of the confession and learned that Aarav do have feelings for her.
In the current track, Emily forgives Aarav and reunites with him while Gunjan and Anandibaa gets disappointed and shows their fake happiness for Aarav and Emily's patch up. Meanwhile, Anandibaa tries to complete the ritual of Moti Baa after her death but Gunjan tried to ploy against Emily and instigates Anandibaa against her.
Here, Emily gets scared and notify about her fear of ghosts. Emily smirks hearing about it and decides to us eit against the latter. Firstly she dresses Pinky as a scarecrow and makes the latter to fly away all the crows in order to spoil the ritual.
Anandibaa gets afraid remembering about Moti Baa's last words and shares her concern with Gunjan, while the latter instigates her more and indirectly accuses Emily for it.
Ahead, Gunjan tells that maybe Moti Baa is upset because of Emily and Aarav's wedding, while Anandibaa regrets her decision to get them married. Meanwhile, Gunjan sends Pinky away from the house and lies to the family members. She then brings her back in the middle of the night.
Pinky gets inside Emily's room and scares her while the latter notify about all the paranormal activities to the Sanghanis. She denies to sleep alone, while Gunjan appreciates Pinky's acting.
Further, Aarav looks after Emily and engages her in his conversation so that she will forget about the fear of ghost. He takes her to the terrace and makes her sleep besides him with a pillow in between them, while the katter holds his hands feeling safe with him.
Now in the upcoming episode, Emily will insist Anandibaa to give her a chance to win Moti Baa's heart. She will promise to convince her, while the latter gets speechless. Emily will bring soundtrack and dresses herself as a dancer.
She will start performing in front of Moti Baa's portrait, while Aarav will become shocked. Whereas, Anandibaa and Gunjan will keep staring the latter being stunned.
Will Emily find about Pinky and Gunjan's ploy?
Will Aarav fall in love with Emily?
It would be interesting to see what happens next on the show.
Stay tuned with us for more news, Spoilers and written updates of Anandibaa Aur Emily.